Assess and compare DCIM software options in the market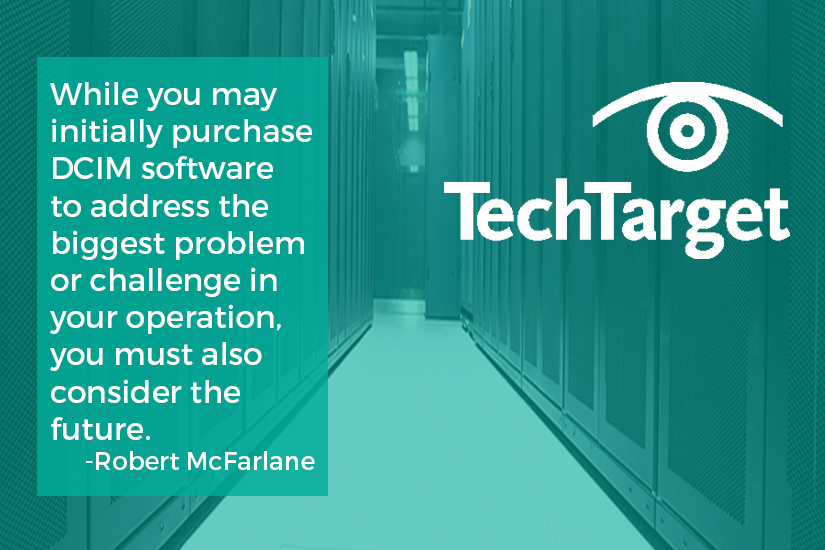 DCIM software can improve the management and operation of your data center. Choose the right vendor for your company to control costs, manage energy and track activity.

Every vendor offers a different range of capabilities and options for buyers looking to purchase DCIM software. After you research the market and go through demonstrations, compare and contrast the various options.
While you might initially purchase data center infrastructure management software to address the biggest problem or challenge in your operation, you must also consider the future. Also, always look at the big picture of a product unless you really do have one specific need.
Network management
To manage the network properly, DCIM tools should be able to detect switch, connectivity and network failures. But an enterprise with in-depth network monitoring, analysis and optimization needs — for example, one that has widespread, multilocation networks — should examine the SolarWinds Orion Platform and the SaaS system from LogicMonitor, Inc. These platforms are specifically designed to autodiscover new hardware and to collect, correlate, analyze and display system data. Their goals are to optimize network performance, ensure efficient use of resources and diagnose and fix any problems that occur.
Asset tracking and management
All the major vendors offer ways to transition customers from cumbersome spreadsheets to full asset databases. The Vertiv (formerly Emerson Network Power) Trellis platform, Nlyte Software, Sunbird dcTrack, NORLINX Systems and Cormant-CS all provide extensive databases for thousands of IT products, including servers, network switches, rack cabinets, uninterruptable power supply (UPS) systems and air conditioners. When you identify an asset — which you can do manually or import from a spreadsheet — you should also be able to identify all its accompanying physical characteristics, such as size, weight and expected power consumption. These details become particularly useful when tied to power and cooling optimization and what-if scenarios. Nlyte can track an asset from its initial order, to arrival on the loading dock, all the way into storage or active use. It's important to examine the tool's ability to easily remove an asset from the database.
One of the best ways to visualize equipment locations is to tie an asset database to a floor plan and rack elevations. Many IT professionals use Microsoft Visio for this purpose, and the NORLINX Global Site Management (GSM) suite of products is the only DCIM tool that actually uses Visio as the GUI for floor plan and asset management. All products use their own graphics to create drawings, and most can import from AutoCAD, Nlyte and Trellis can also import from Visio. Nlyte can even use PDF images for equipment visualizations.
A notable challenge in any enterprise is maintaining and updating the database. Most systems can track assets using IP-based information from compute devices and power and cooling infrastructure. Several products, such as Nlyte, Trellis, StruxureWare and Sunbird, integrate with asset tags, like barcode and radio frequency ID (RFID). These can automatically update the database and also add the asset and its characteristics to the visual floor plan and appropriate rack elevation. LogicMonitor uses Netscan to automatically discover devices. However, none of these DCIM systems actually provide the ancillary hardware to accomplish these tasks, and RFID tracking to the rack U level can be expensive.
Most DCIM software with extensive asset tracking capability will also generate work orders, which can streamline operations and reduce errors. NORLINX not only monitors activity but will also show in real time what someone else in the program is doing.
Power and cooling optimization
The integration of power and cooling monitoring into full DCIM packages has enabled a far more sophisticated analysis and optimization than what simple power monitoring alone could achieve. NORLINX Systems, for example, provides real-time depictions of failover status at cabinet and busbar levels. Nlyte, Trellis, FNT Software, Intel Data Center Manager, Cormant-CS and StruxureWare all measure power utilization indicating current, stranded and future capacities.
When you evaluate this aspect of DCIM software, ensure that it is vendor-agnostic. Modern data centers rarely use UPS, air conditioners, power distribution systems and rack power strips entirely from the same vendor. To be effective, the DCIM software must be able to receive data from the full range of providers and in multiple formats, such as ModBus and BACNet, which are common to the mechanical cooling and security industries. Most systems can do this, as well as integrate data directly from IT assets that provide internal performance data. Nlyte can use Simple Network Management Protocol device characteristics and extrapolate actual power usage over time, avoiding the need to purchase expensive, intelligent power strips for every cabinet.
Schneider's StruxureWare and Vertiv's Trellis have extensive power and cooling monitoring capabilities, but these systems are also compatible with all vendors' products. Trellis further incorporates Vertiv's proprietary iCOM smart cooling technology that enables users to automatically control and balance the full range of their air conditioning products via distributed sensors and control links to the devices. Sunbird Software's Power IQ is designed to monitor energy, environment and power, and Intel Data Center Manager is a plug-in software development kit that provides power, thermal and health management for servers, racks and IT equipment.
Alarms and what-if scenarios
When you combine asset management with power and cooling monitoring and add a dose of analytic software, you can not only see power and cooling performance, but you can program the DCIM software to predict what will happen if you add a server. Systems like Nlyte, StruxureWare, Cormant-CS and Trellis will also give you prioritized options as to where to put the server — right down to the cabinet and rack positions. Trellis can provide a form of thermal imaging from multiple sensors in the room and illustrate how the new device is likely to be cooled. Buyers should note that StruxureWare uses an integrated form of computational fluid dynamics (CFD). Trellis does not incorporate actual CFD, as its imaging is an extrapolation from sensor readings.
Systems like NORLINX GSM will monitor data from the UPS and air conditioners and can raise flags when parameters deviate from their norms, before failures actually occur. When situations trigger actual alarms, users will see the alerts on their smartphones and will be able to view actual data and dashboards to determine the nature, magnitude and criticality of the problem.
Security
Although there is no such thing as completely safe and secure remote access, all vendors protect actual remote system changes with more than just passwords. Nlyte uses third-party vulnerability testing to ensure integrity.
Some users may be concerned about DCIM vendor access to their systems and data. The SolarWinds Orion network monitoring platform is a strictly local installation; no information goes back to SolarWinds. Cormant-CS includes a high level of internal security, with optional configurations based on the required security level. None of the providers want to invade data privacy, but if you are concerned about vendors' access to your operational details, ask the vendor before purchase.
Also published on TechTarget.com