AVIXA Announces 2018 Certification Committee Results, Ron Willis, CTS-D Elected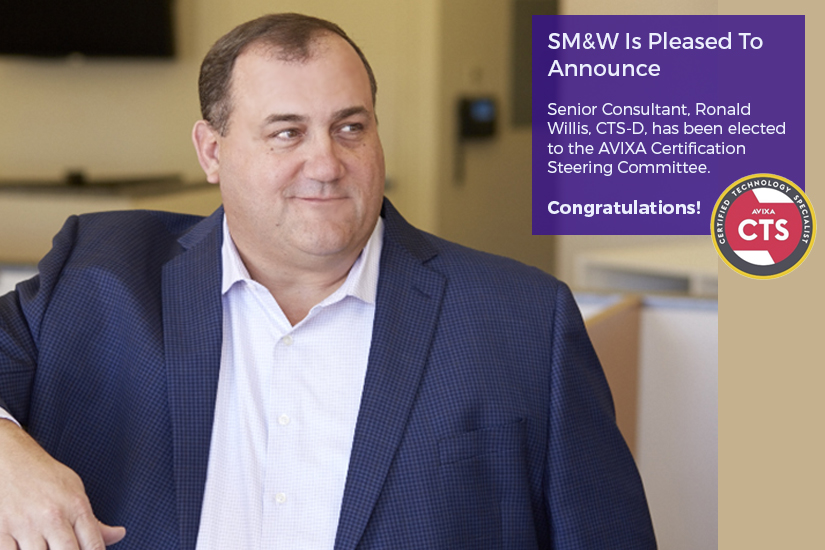 We are please to announce that Ronald Willis, CTS-D, Senior Consultant at SM&W has been elected to the AVIXA, Audiovisual and Integrated Experience Association certification committee.
The independent AVIXA Certification Steering Committee is responsible for overseeing the development and administration of credible Certified Technology Specialist, Certified Technology Specialist-Design, and Certified Technology Specialist-Installation certifications (CTS, CTS-D and CTS-I) and for ensuring the credentials meet high standards of ethical and professional practice for the audiovisual industry.
Per AVIXA: "Nearly 11,500 professionals worldwide hold a CTS certification, including 312 who hold both CTS-D and CTS-I advanced designations. All three certifications are currently undergoing revalidation to reflect the most current skills and knowledge, as required by international standards bodies. The certifications are accredited by the America National Standards Institute (ANSI) under the International Organization of Standardization (ISO) and the International Electrotechnical Commission (IEC) ISO/IEC 17024:2012 General Requirements for Bodies Operating Certification Schemes of Persons program."
About AVIXA
AVIXA™ is the Audiovisual and Integrated Experience Association, producer of InfoComm trade shows around the world, co-owner of Integrated Systems Europe, and the international trade association representing the audiovisual industry. Established in 1939, AVIXA has more than 5,400 members, including manufacturers, systems integrators, dealers and distributors, consultants, programmers, live events companies, technology managers, content producers, and multimedia professionals from more than 80 countries. AVIXA members create integrated AV experiences that deliver outcomes for end users. AVIXA is a hub for professional collaboration, information, and community, and the leading resource for AV standards, certification, training, market intelligence and thought leadership. Additional information is available at avixa.org.