More Than A Website Redesign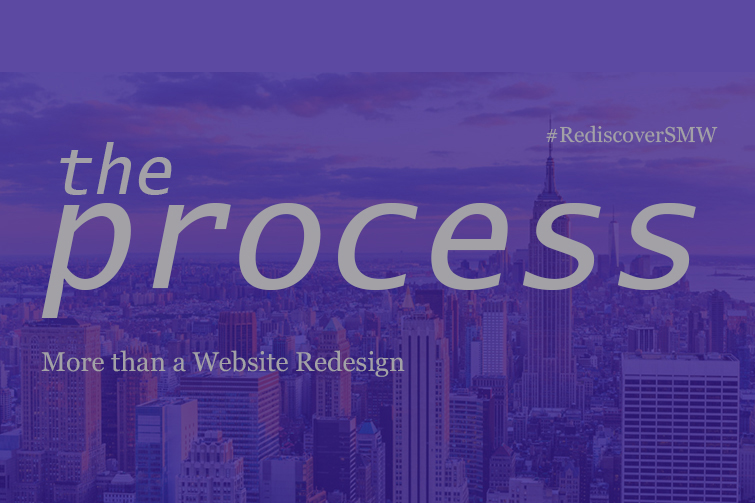 The professional services industry is coming to a crossroad – we either proceed as usual and run the risk of losing market share or challenge the conventional and see passive browsers become valuable conversions. Gone are the days where you can count on word of mouth or a simple online brochure to generate enough new work to grow and sustain a profitable business. Today, a firm's digital presence is as highly regarded as a referral, and has become a credibility test of sorts in the market.
Understanding our website is the hub for lead generating efforts, it was decided that someone needed to be dedicated to creating an optimal digital experience and maximizing engagement with clients. I was appointed to lead the website redesign and strategy for www.smwllc.com as well as manage the development and content generation of a microsite (which included the production of 2 videos) celebrating SM&W's 30th year in business.
We designed our new website with our clients and our prospective clients in mind. Encouraging them to get connected, get inspired and get solutions. It was during the development process that we agreed – this project is more than a redesign, it's an opportunity for the world to Rediscover SM&W. Below I'll share some of the strategic decisions made during the redesign process that allowed us to successfully reintroduce our services, our experts, and our knowledge.
1. Formed a Website Committee
Before embarking on this project, a website committee was assembled by our CEO, Tom Shen. The team was made up of at least one person from each of our offices worldwide. They reviewed our old website, gave their insight, participated in design workshops, and participated in content discussions. We determined what was and what was not working on the old site. These findings became the foundation of our redesign and allowed us to establish our goals.
2. Partnered with a Designer | Developer
For this project we partnered with Jessica Wyman owner of Wyman Projects to design and develop our new website. She listened, and helped our brand create a digital presence that truly matches our expertise, the quality of our services and our global reach – laying out an easy, clean, seamless and intuitive experience throughout site.
3. Staff Collaborated Across The Globe
Our clients and prospects are following us on social media, watching our videos, subscribing to our newsletters, reading our blog posts, and sharing our content because our team of experts are creating valuable and relevant content. These contributions keep us at top of mind so we are there when our clients need us.
What's New
• Completely new and responsive design. Looks good on your desktop and mobile devices
• Our Homepage includes an impressive timelapse video representing our global reach
• Browsers are given multiple access points to highly desired information like our Services, Markets, Leadership, AIA CES Courses, Career Opportunities,      Projects and Contacts
• We decluttered and introduced new graphical elements. i.e icons representing our services and shorter project write-ups
• Easy to find, direct access to our Global Service Area Leaders, Market Area Leaders and New Business Representatives
• Social media and our blog (blog renamed News & Knowledge) have been integrated in a dynamic way, and our content is shareable
• It's easier to engage and sign up for our newsletters
• All office locations are showcased, highlighting important projects and news in their location
• Geo tracking installed to help browsers locate the office nearest them
• A timeline showing our firms rich history and milestones
• An opportunity to optimize, collect analytics and maximize on our findings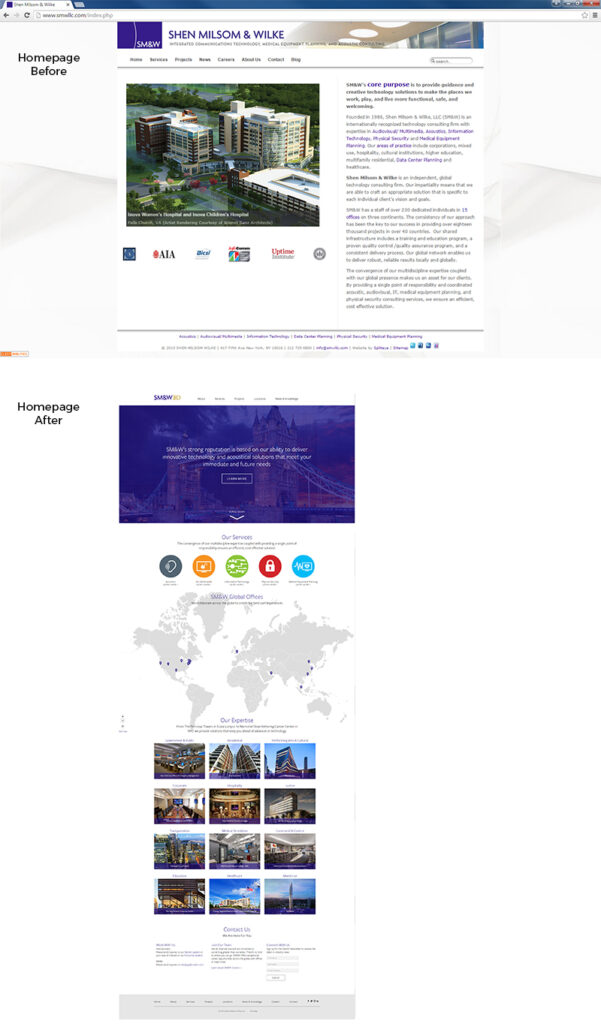 A strong plan made the process very smooth along the way. We mapped out a blueprint and created more than a fabulous new look, but an opportunity to generate leads, gain and retain more clients. As with any solid digital marketing strategy, the site will constantly be measured and refined for optimal performance for business growth and traffic.  But as for now, we are extremely proud of the response to the new site, which has been overwhelmingly positive.