Pepcom's Technology Tasting Tackles Pain Points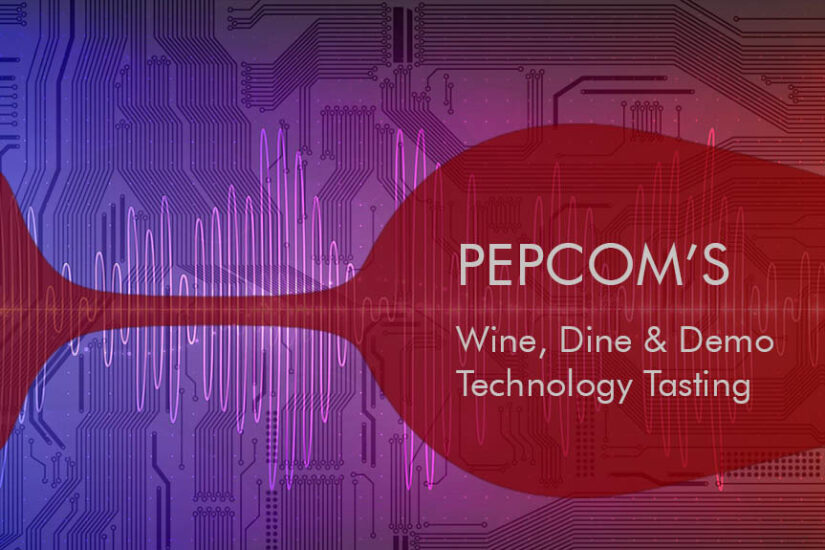 Pepcom's Wine, Dine & Demo, turned up two technology collaboration surprises: Notion and Kaptivo. Notion is artificial intelligence (AI) software for email that ties into Amazon Alexa voice recognition and Kaptivo is an intelligent whiteboarding solution.
Notion: Say Hello, and wake up your e-mail
Notion is a startup with $9.5 million in funding and a desire to solve e-mail overload. I caught up with Guy Suter, co-founder and CEO at Notion at the show. Three years ago, Guy was a corporate manager, and like all of us he was frustrated with email. "We were looking for what's most important in our inbox, and what can be done more quickly with AI when focusing on personalized behavior," says Guy.
There are lots of email apps in the market, so what make's Notion different? Google's Inbox, for example is well known option, but as Guy points out, does not solve the overload. Google sorts email into categories, like social and promos, which means lots more places to check, and email can end up in the wrong segment. Notion take a different approach, by sitting on top of any email application and keeping the user in control of the decision process.
Notion flips the workflow by validating what is un-important, and gets smarter with time, learning from user interactions. I watched Guy demonstrate the filtering agent on a smart phone, counting as he scanned down a list of emails and prompting to archive with a flick of the thumb. Notion includes a feature called Radar, a nested application that interprets and improves response times to replies, from you and the sender. Notion also collects contextual information, such as who introduced us and first email exchanged using People Tracking, creating a history of interactions.
The company is now offering their software as an Alexa skill. Voice control is surprisingly useful for managing email and calendars. In my opinion, the Notion skill offers the first voice recognition for business applications that works right out of the box, and combined with Alexa's other skills for remotely controlling the lights and thermostats has the potential of changing how conference rooms are controlled. After downloading the Notion skill into Alexa, I received a summary of my emails, identified which ones were waiting for a response, got more details read aloud, and dictated a response from across the room. In my opinion, Notion and Alexa work as promised and make for a powerful business partnership, particularly when combined with Alexa's calendaring feature, which allows for searching appointments by time, date, or title.
When asked how Notion is going to monetize what is currently a free app and a free Skill, Guy answers that next year they are expanding team productivity. It's possible that Notion could compete with communication applications like Slack. It's also quite possible that Notion and Alexa will find their way into collaboration spaces offering voice commands that control content.
Kaptivo: Real-time sharing of any whiteboard anywhere, to any digital device
What looked like just another overhead camera on display at the show turned out to be a deceptively simple solution to the biggest challenge users have with electronic boards: they simply don't get used… even by their own engineers! The objective, according to Dr. Adrian Cable, President, CTO and Co-founder of Kaptivo is to bring the immediacy and convenience of traditional low-tech dry-erase whiteboard to the cloud.
The developers behind Kaptivo, Light Blue Optics (LBO), are the same team that created the interactive touch and pen technology acquired by Promethean, so they have significant experience in interactive whiteboarding. "We found we had developed a product that we never actually used ourselves", says Dr. Cable, "because it was never easy, required a PC or special the pens that were never kept charged." So, Light Blue Optics set about to design a better product, one that doesn't force people to rip and replace boards or use special pens, and one that works with any remote device.
There are many electronic whiteboard solutions on the mark, so what makes Kaptivo unique besides the low cost and ease of installation? The intelligent imaging technology analyzes the camera's view in real time, resolves the angled abstraction, removes shadows and anything blocking the image. The resulting stream is a live view of just the ink on the board without the person's hand (or body) in the way. While the demo at Pepcom had some lag due to wi-fi, the actual delay is said to be under half a second.
Kaptivo's live images are viewable through any Web browser or Android/iOS app. For live sharing, the product uses TLS encryption, so that no one outside the session can access the board content, and no meeting data is stored on the board or on the cloud servers. Plus, software keeps track of key frames and generates a slide deck (.pdf) at end of the meeting, so you don't have to capture information before picking up the eraser. Instead of taking notes, local and remote participants can focus on the whiteboarding session. With the current release, there is no remote annotation, but that feature is coming and will not require hardware updates.
Kaptivo is said to be the first of several products that leverage the LBO design team's expertise in optics, image processing and embedded software, so we should expect to see more from this company over the next few years. Perhaps the best aspect of the Kaptivo electronic whiteboard camera is that it works directly with Skype for Business, Web-Ex, Zoom, Blue Jeans, and technically any videoconferencing system that allows application screen-sharing.
There were lots of great products on display at Pepcom's Wine, Dine & Demo, Technology Tasting this year, but these two collaboration products are delivering practical solutions in their very first release. Looking forward to seeing more collaboration innovations unveiled at CES 2017.