SM&W Unscripted Announces Early 2022 Sessions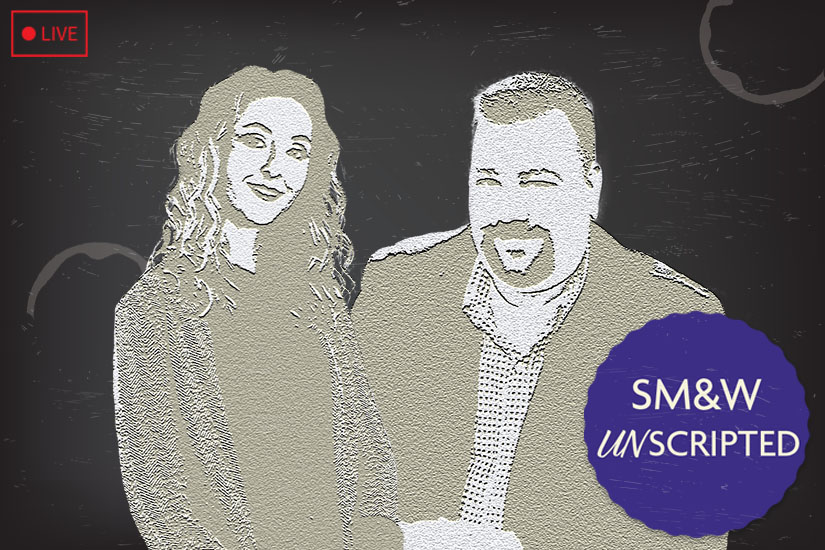 SM&W Unscripted will resume its monthly meeting sessions in 2022 with a brand new lineup of topics and guests.
SM&W Unscripted was created as an open conversation outlet for the AEC industry based on many internal team exchanges at SM&W. The live meeting series aims to tackle topics of interest across the AEC community with an open discussion format. Each month hosts Stacey Dahmm and David Goetz hold a meeting about an issue of interest, often with special guests from the industry. Meetings are open to all and are short (around 30 minutes), but value candid conversations and shared experiences among colleagues.
2022 sessions and dates include:
January
Emails, instant messages, phone calls, meetings, and social media outlets allow us to communicate with one another, but are you communicating effectively as a professional? Are you too personal? Is your tone right? Do you know your audience?
January 27, 2022 at 11:00 AM EST – Register Here
February
Love it or Leave it – Employee Retention
Are you in love with your job, or are you debating your next career move? In the world of the great employee exit, how can employers retain their staff and avoid turnover? Are there any trends recruiters see in order to allure professionals to new jobs?
February 17, 2022 at 11:00 AM EST – Register Here
March
While we celebrate March Madness, we would be remiss not to talk about the world of esports. This increasingly growing market has yet to be tapped for its full potential. What does the esports world look like, and how are designers planning for these unique facilities?
Hosts Stacey Dahmm and David Goetz will be joined by esports enthusiast and SM&W Partner Randy Tritz, CTS-D, to discuss the esports world and its effect on the AEC world.
March 31, 2022 at 11:00 AM EST – Register Here
April
Navigating a Crossroads in Your Career
Let's face it: deciding to completely change your career can impact your entire life. Although standing at the crossroads of your career can be scary, it is something many face today. How and why do people decide to change the trajectory of their career?
April 28, 2022 at 11:00 AM EST – Register Here
May
We have all failed at some point or another. Whether it was failing a certification test, failing to get promoted, or even failing at a professional relationship, failure shapes us both as professionals and as people. How do you identify failure? How do you overcome your failures?
May 19, 2022 at 11:oo AM EST – Register Here
Grab some coffee, take yourself off mute, and come chat with us!
About SM&W Unscripted
SM&W Unscripted is a monthly meeting of minds, where our co-hosts, Stacey Dahmm and David Goetz, will guide open dialogue about topics surrounding the AEC community. Sessions run monthly from January through December, with blackout months of June, July, and December.