What CES 2017 Will Reveal for The Corporate Industry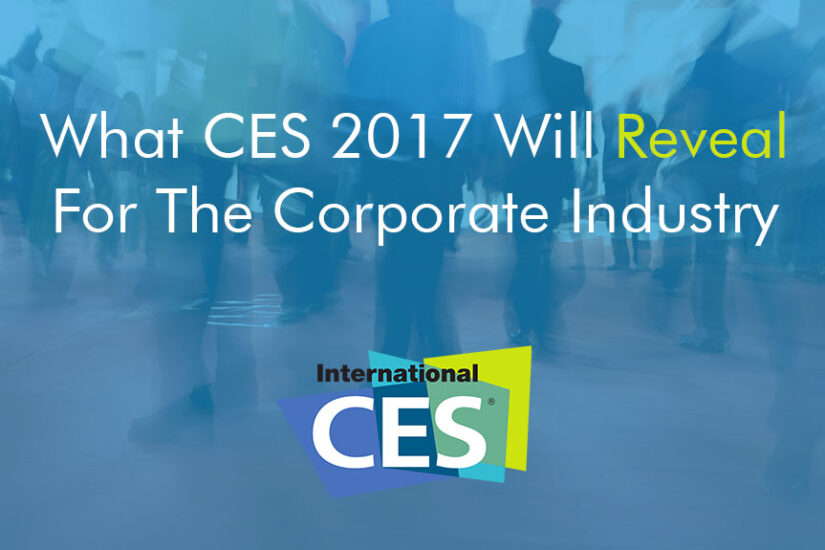 Next month, more 1,400 journalists and industry analysts will attend CES 2017 in Las Vegas, the world's largest stage for the business of consumer technologies.  I will be attending on behalf of SM&W with the specific goal of reporting on consumer trends likely to impact corporate technology planning.
The past few years have confirmed the dramatic influence that consumer technology has on business innovation. Displays, virtual reality and artificial intelligence are a few examples of where cutting edge technology in the residential market will quickly sweep into the corporate vernacular.
3 Consumer Electronics Categories Most Likely to Influence Corporate Buying Decisions
Display Technology
We can expect Samsung, LG and Sony to release significantly smarter display technology, but how much more IQ can they squeeze from wireless, apps and customized UI and how beneficial will their intellect be, remains to be seen. This year, 8K displays will be out, and manufactures have to convince consumers that there is value in image sharper than the human eye can differentiate. OLED will also dominate the booths, in its most exploited, bendable, foldable form.
This year will mark OLED technology as finally moving from novelty to a deliverable format, thus we will gain insight into practical manufacturing sizes, competitive pricing and suitability for corporate deployment. High dynamic range (HDR) replaced pixel count as a specification qualifier, but last year every manufacturer held a different interpretation. Will this year reveal new methods of comparison or greater consistency to standards?
Direct view LED technology is popular in industrial applications is still very expensive.  The lack of prominence of direct view on CES 2017 show floor may imply low consumer interest and may foreshadow that its high costs may continue to impede corporate adoption… or the reverse.
Up until now, actual 4K content (not just scaled up 1080p) has not accompanied the market saturation of Ultra High Definition (UHD) displays. At CES 2017, we should see a wide range of options to full the demand, including service providers like Netflix, hardware providers like Hulu. The questions to be answered are: how good will streamed 4K content look, and are these 4K solutions practical for corporate application? Meanwhile, 5G is coming to life in 2017, which may provide a range of options that compete with traditional Wi-Fi.
Virtual Reality

On display at CES 2017 will be the next wave of immersive multimedia and reality systems, software and accessories for mobile, PC and consoles. Last year at CES, the Martian VR experience provided a unique opportunity to test drive VR software against a variety of manufacture's gear, and for the first time experience the perception of weight in VR (potatoes in zero gravity).
While there are many consumer-relevant drivers, and CES 2017 will get us that much closer to the edge of questioning "is this a movie or is it actually happening to me?", VR technology has corporate potential, from designing office buildings to training scenarios for employees . Immersive technology still feels like a solution looking for a corporate problem to solve, however, and this year's CES should reveal more opportunities.  No doubt that's why there is a VR track this year and CEO Brian Hrzanich is holding a press conference to explain how Intel is investing heavily in VR, hinting at the VR's significant expansion into the corporate market next year.
Smart Technology

Interest in building artificial intelligence into consumer products surged in 2016, particularly due to consumer fascination with driverless cars. Meanwhile, executives are interested in improving mobile e-commerce by incorporating cognitive technologies that enable greater interactivity and ease of use.  CES 2017 holds a unique opportunity to witness first-hand how far self-learning has progressed in 12 months, and extrapolate the time it will take to get into the corporate boardroom. Along with automobile user interfaces merging with mobile devices, we can expect to see more holistic designs (smart meets fashionable) paralleling home automation and setting up expectations for greater "intelligence" inside the office, and not just limited to web pages or the garage.
Similarly, the smart homes market reached $10 Billion in 2016 with a 25% annual revenue growth that shows no sign of slowing down. Even though the smart environmental controls like lighting and heating are well established, exhibitors at 2017 CES will have on display where smart home innovation is heading next This is an important trend, as the investment in intelligent residences, such as security, waterfalls into efforts to innovate smart buildings, scheduling products and conference room control integration.
Pre-show press releases indicate that the market for disruptive embedded artificial intelligence and predictive analytics is going to be very hot in 2017, just like the surge in heath monitoring tech before CES 2015. Consumer solutions in AI and PA will quickly gain a foothold in Corporate sector, and exhibitors are promoting solutions,  like algorithms that address the volume and complexity of data, and provide value by automatically prescribing action plans that can improve business decision making.
While Amazon and Google will not be on the show floor, we can expect to see their smart home partners weaving voice control into product offerings, due to quality of the speech recognition and the low-cost of AI tech. While voice control is getting lots of buzz in conference room control integration, voice-controlled business applications are still developing.  As we reported last month, Notion recently announced their e-mail skill for Alexa, and we can expect to see at CES similar combinations of AI and voice integrated personal productivity to overlap with business-suitable applications.
Stay tuned for Live CES 2017 Pre-Show Highlights

There will be over three thousand product exhibitors, with the potential to influence business productivity well beyond OLED displays and alternative forms of VR and AI discussed here.  Unlike the 500,000 industry professionals who have to wait until the doors open on Thursday, we will be attending the pre-shows on Tuesday and Wednesday to give you a sneak peek at the highlights. Then, SM&W will be at the epicenter of the CES show floor, reporting back on the gadgets and gizmos likely to generate excitement in the coming months.