CES 2023 Anticipated Highlights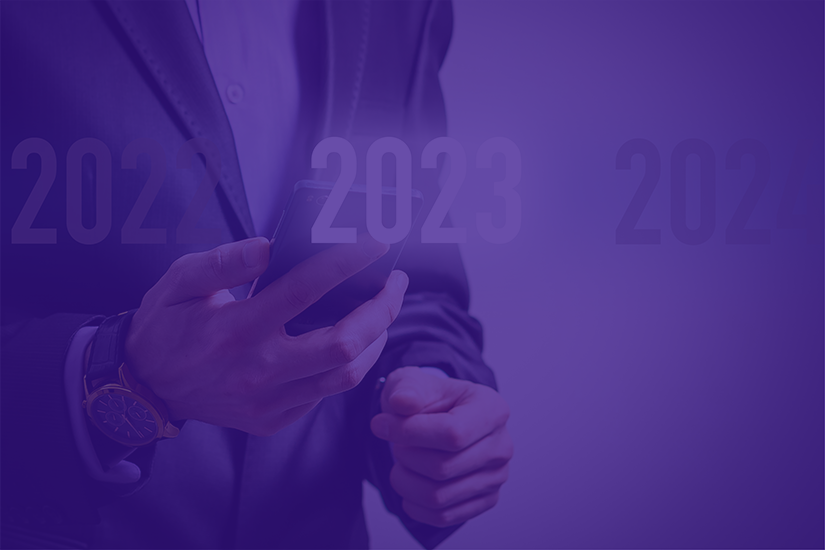 With the CES 2023 quickly approaching, SM&W has sights set on the next big and small innovations to explore at the show. Here's what we're excited about this year:
Tech Terms to Know for 2023:
First things first: terminology. Just like evolving tech, there is always new verbiage to describe the new products and systems. Below are some terms to help navigate emerging technologies at the show this year.
Hearables – A sub-set of Wearables, Hearables are devices that specifically support enhancing speech in response to the FCC ruling that prescriptions are no longer required for hearing aids, devices that also support music and audio conferencing.
Physital – A marketing term that describes the blending of digital experiences with physical experiences. Either physical experiences enhanced with information or digital experiences enhanced with human connection or physical enhancement.
QD-OLED – An application of Quantum Dot LED to OLED display technology to improve brightness. Samsung peak brightness for 2023 QD-OLED displays will reach more than 2000 nits.
QMS (Quick Media Switching) – Part of HDMI 2.1a, QMS eliminates the blackout period between HDMI source switching by using Variable Refresh Rate (VRR). As long as the resolution is the same and only the frame rate changes, QMS will instantly switch between sources. Intended for videos, not necessarily gaming.
Infrastructure-as-a-service – Platforms that support building virtual environments alongside physical hardware that would otherwise be too expensive to build out.  For example, Nvidia's Cloud Platform "Omniverse" AI architecture where Design and Engineer Teams use the same simulation toolset to create the product and simulate the user experience.
CES 2023 Award Honorees that Have the Potential to Impact the Office
Though there are many exciting breakthrough products that have earned awards from CES this year, we're looking forward to learning more about some tech systems that have the potential to influence how we all work day to day in the near future.
Tiny Desk Sensors
Disruptive Technologies (DT) makes wireless desk sensors that are easy to install and collects data to solve operational challenges in Commercial Real Estate such as supporting hot desking and the Hybrid workforce. The sensor uses a combination of temperature measurements and machine learning to determine if a desk is occupied.
https://www.ces.tech/innovation-awards/honorees/2023/honorees/d/desk-occupancy-sensor.aspx
Long Range Wireless Power Charging
Qi (pronounced "chee") is the wireless charging standard for providing 5-15 watts of power to small personal electronics. Wi-Qi is a wireless Qi charging pad that does not require wired power cord. Power to the pad is delivered over the air from a wireless power transmitter installed in the ceiling, rather than by a power cable connected to an electricity socket.
These devices come in a variety of installation options that support home, office and hospitality environments. The pad can be easily moved around the table or embedded into it.
https://www.ces.tech/innovation-awards/honorees/2023/honorees/w/wi-qi.aspx
Smart Glasses
KEPLAR Glasses are Augmented Reality glasses in a traditional glasses-type form factor with four times the current typical virtual screen space and they include an embedded camera. The PinMR™ lens overcomes the issue of the vertical viewing angle, which has been the greatest challenge to AR optical system technology. Widening the vertical viewing angle from 23° to close to 40° improves performance  by over 70%. The frame has been further improved by reducing the size and bulk, so that it can be easily worn like regular glasses. AR glasses that can provide clear artificial images and real-world vision at the same time without any interference, and in a much more wearable frame size have potential use in a wide variety of medical, hospitality and business applications.
https://www.ces.tech/innovation-awards/honorees/2023/honorees/k/keplar-ar-smartglasses-for-everyone.aspx
Bendable Displays
The LG OLED Flex is a 42" bendable 4K Ultra HD display with pixel-level dimming. This display can adjust from flat to a 900R curve at the push of a button and has tilt and height adjustments, hands-free voice control and optimized for gaming.
https://www.ces.tech/innovation-awards/honorees/2023/best-of/l/lg-oled-flex-(model-42lx3).aspx
Vertically Curved Monitor
The Samsung Ark is a 55″ UHD 165Hz 1ms Quantum Mini-LED Multiview Curved Monitor that came out late last year for the gaming market received mixed reviews: lots of potential but under delivered. A review from the Verge states that it is curved, bright, and fast, but not as useful for multitasking as several cheaper monitors used together
https://www.theverge.com/23439332/samsung-odyssey-ark-review
Camera imaging for Immersive Collaboration
Cannon received the 2023 CES Best of Innovation Award in the Software and Mobile Apps category
for their AMLOS (Activate My Line of Sight) collaboration platform. This is a software-and-camera product suite designed to provide a new level of engagement for collaboration across multiple locations using Canon's image processing technology, along with hand gesture controls. Invites can be forwarded inside Zoom or MSFT Teams meetings to provide a whole view of the room plus additional views.
https://www.youtube.com/watch?v=6WXLh07Ie_g
120" Mini LED Display
Sharp's new flagship is the XLED (Mini LED) 120" display. Sharp is now majority owned by Foxconn, and in addition to displays, the company is produces energy technologies, passenger information displays, AR/VR headsets.
Mixed Reality Headset for Skills Training
The AjnaXR, is an AR/VR headset that's focused on improving workforce skills with eye tracking, time and space tracking. Users will have access to immersive courses in industries like construction and healthcare, using haptic gloves to engage in realistic training with industry tools. AjnaXR also offers performance analytics and a leaderboard to track your progress and help increase product utilization.
https://www.visitingfromspace.com/ajnaxr
Avatars for Training Videos
Synthesia is a web-based platform for creating videos with AI avatars and voices. Learners prefer videos over text because they are more engaging, and the information is processed faster. With this software platform, training videos can be created in minutes without cameras and actors. Add voiceovers without expensive equipment or hiring voice actors. Edit them as easily as a document.
https://www.synthesia.io/learning-and-development
Bluetooth LE Broadcast Audio
The specification for Bluetooth is managed by the Special Interest Group (SIG), a consortium of competing firms, each with their preferred codec, which is why a single version with dramatically better audio quality will not arrive any time soon, despite the pent-up demand from audiophiles.
Advancements in Bluetooth are important because of the recent FCC ruling that prescriptions are no longer required for hearing aids. The market for audio MEMS (microelectromechanical systems sensors) combined with Bluetooth (wearables) that both augment speech and support listening to music is likely to soar in 2023.
Look for more Low Energy (LE) audio products, because they all use the same LC3 codec in the SIG standard, delivering the same "reasonable" audio quality but with better battery life and lower latency. The LE spec also includes audio sharing, which means devices will now be able to broadcast their Bluetooth audio transmissions to any compatible receiving device.  Bluetooth Auracast turns smartphones into radio stations and headphones into hearing enhancer. Look for products that impact watching movies, listening to concerts, and experiencing in-flight entertainment.
https://www.buetooth.com/auracast/?gclid=CjwKCAiAwc-dBhA7EiwAxPRylEWDa9r35p0p5V6QFf1tK5OCJ5-XbhvBVRkjOX_rZmqRJUoWwoMn5RoChzkQAvD_Bw
Important to Watch
There are plenty of new technologies that are less likely to reach the corporate market but still hold relevance to the advancement of the AV industry. Below are some interesting tech items to keep your eye on.
Autonomous Tractor and NVidis Jestson Platform
Receiving CES's Best of Innovation for Robotics, John Deere's fully autonomous tractor is leverages GPS guidance, stereo cameras, sensors, and AI technology to perform essential tasks on the farm without an operator in the cab. Farmers can manage the tractor from their smartphone, doing 24/7 jobs.
The John Deer tractor was developed using Nvidia's Jetson platform for autonomous machines and other embedded applications. The platform includes Jetson modules, which are small form-factor, high-performance computers that leverage the NVIDIA JetPack SDK for accelerating software. The ecosystem of sensors, SDKs, and related products and services speeds up the development of autonomous vehicles.
https://www.nvidia.com/en-sg/autonomous-machines/embedded-systems/
Exoskeleton
The German Bionic Systems' Cray X is a powered exoskeleton for use in industrial environments. It protects the lower back area by giving up to 66 lbs. of support per lifting movement as well as providing active walking assistance to prevent fatigue. The hardware works with industrial IoT technology, enabling integration into Smart Factory environments, with constantly updated system KPIs that can be accessed in individually configurable dashboards specific to applications, such as location and identification management.
https://www.ces.tech/innovation-awards/honorees/2023/best-of/c/cray-x.aspx
Thin Speakers for Cars
The LG Thin Actuator Sound Solution (TASS) is a hidden speaker for automobiles.  Speakers normally consist of a voice coil, cone, and magnet, while this solution uses LG's display film-type exciter technology that vibrates off display panels and various materials inside the car body to produce 3D immersive sound experiences. The device weighs 40g at 150mm x 90mm and just 2.5mm thick – the equivalent of two coins stacked together.
https://tadviser.com/index.php/Product:Thin_Actuator_Sound_Solution
Music-based Neurofeedback
Alphabeats is mental training method using neuroscience for achieving top athletic performance by measuring brain activity with an EEG headset. By adjusting user-selected music using an algorithm to induce higher alpha brainwave activity top mental performance and optimal physical performance can be achieved simultaneously.
https://www.ces.tech/innovation-awards/honorees/2023/honorees/a/alphabeats.aspx
Digital Sneaker NFTs
At this year's CES tradeshow, LG is promoting their Shoe Care and Storage system, where luxury sneakers are stored at the ideal humidity and temperature settings, with a "Monster" digital virtual shoe, made with non-fungible token (NFT) technology. LG will run a "phygital (physical plus digital)" experience area where customers can use augmented reality technology to try on NFT shoes. Customers can store and trade the NFT shoes through their cryptocurrency wallet.
https://biz.crast.net/lg-electronics-monster-nft-digital-virtual-shoes-to-be-showcased-at-ces-2023/
AI with Situation and Emotion Recognition
InDJ is an AI service that provides a method of recommending music, content, and healthcare information by analyzing user emotions and situations. The AI provides music lists according to more than 20,000 situations such as mood, weather, and patterns based on smart-phones, IoT, and connected car sensors. The AI labeling system analyzes the data of music's sentiment, genres, instrumental composition, BPM and social network then recommends content by identifying user situations and emotional patterns, analyzing seasons, driving habits, driving conditions, and travel.
https://www.ces.tech/innovation-awards/honorees/2023/honorees/i/indj.aspx
First Metaverse Store
A 7-Eleven metaverse store will be in the virtual reality space located in CES 2023 Hub World, the core city of the hyper-realistic metaverse under development by Caliverse. Avatars can eat and drink the main items sold in 7-Eleven, users can observe changes in avatars and objects around them, such as seeing changes in hair color after drinking a Slurpee.
https://www.kedglobal.com/retail/newsView/ked202301030001