Considerations For Acoustic, Audiovisual Upgrades
Within office environments, acoustics, audiovisual and security elements can be an overwhelming task to manage. New technologies bring new design considerations, which means in addition to the standard problems that arise, careful consideration during the design process is needed.

There have been many recognizable trends in recent corporate office design that impact acoustics. These include the transition from enclosed offices to more open, collaborative spaces, the removal of ceilings to expose the underside of building structure, as well as the inclusion of activity/amenity spaces, either within the tenant fit-out or provided by the building owner for all tenants. These activity spaces range from a simple place to watch television to locations with Ping-Pong and billiard tables, fitness and exercise areas, video games and bowling alleys.
Although these areas can provide a much-needed reprieve from office work and promote relaxation, rejuvenation and team building, they also require special attention so that the noise and vibration associated with any of the amenity activities does not interfere with the workers who are concentrating or communicating in meetings.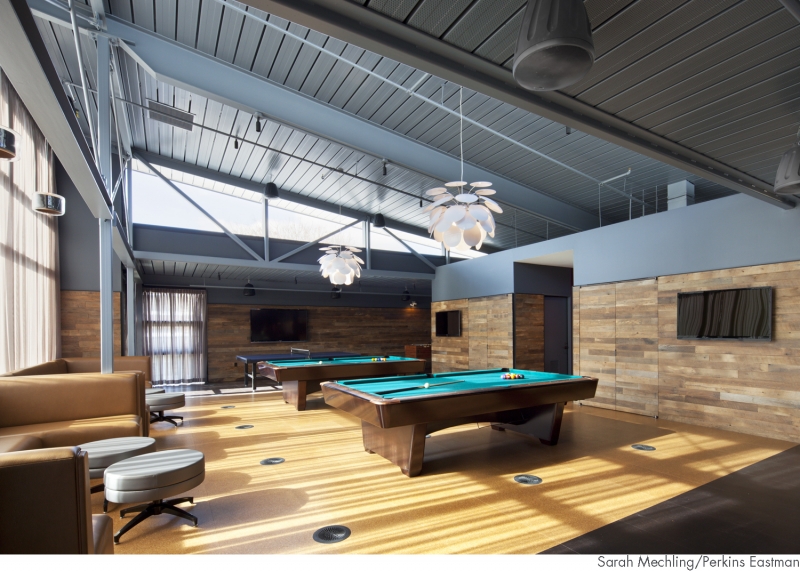 Isolation of airborne noise from these activities requires a well-thought-out location. For example, this location is either separated by solid and continuous wall construction or located such that the sound travels a very circuitous path with strategically located sound absorption between the activity space and the working areas to dampen the sound as it travels.
Even more problematic, and often overlooked, is the vibration that is generated by aerobics, rhythmic exercise machines and dropping of weights (including bowling balls.) These forces can result in noise and vibration disturbances in other areas in the building, especially when located on upper floors. Specialized construction such as upgraded floor stiffness, floating floors supported by springs or rubber isolators, and resilient floor finishes can be implemented to help reduce the vibration transfer and allow the deadline-driven worker to concentrate without distraction.
While acoustic design is driven by the functions within a building, planning for audiovisual systems within amenity spaces can vary widely based on the needs of the users. Many amenity spaces make use of digital signage for information delivery, TV shows, building notifications, live weather updates or security notifications. This signage can be as simple as a flatscreen television connected to a small form-factor computer with a cycling PowerPoint-type presentation listing upcoming events and information or more elaborate interactive displays with the ability to simultaneously feature a broadcast TV channel while also showing locally generated text information pertinent to the users. With the immense variety of options, it is key to understand how the end user will use this technology to communicate to building tenants and plan accordingly.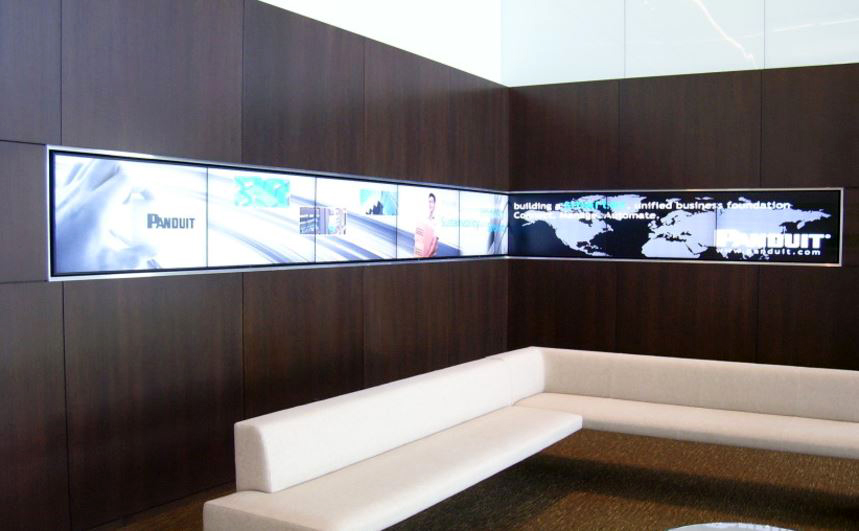 A typical approach for digital signage design will include providing the infrastructure to support the physical weight of the display and its mount. Similarly, electrical infrastructure for power, data and broadcast television services (antenna, cable or satellite) all should be coordinated for its placement to be concealed by the installed display.
Finally, in any workplace environment, safety and security should be considered of upmost importance, including traditional single-entity office buildings or multi-tenant style corporate facilities. Proper assessment during the planning stage is key; with security infrastructure design, it helps to mitigate security risk factors. Ultimately a successful security program will protect valuable assets including staff, visitors, physical facility and critical infrastructure as well as monetary and intellectual data assets.
A major portion of most tenant buildings is access-control systems. In addition to convenience for card holders, an access-control system offers a multitude of advantages, including programmable controlled access, door scheduling, visitor management, centrally managed database, user audit trails, integration with video events and reduction of lost hard keys. This can involve contactless access credentials, traditionally consisting of access key card or key fob devices. However, these devices may be less secure and more susceptible to "card cloning," which is a severe security risk to an organization.
To mitigate this risk, many companies are moving to smartphones for security access. Soon smartphone mobile access credentials likely will become main stream. This technology is available now as an option from many card-reader manufacturers, either in the form of Bluetooth or near-field communication wireless transmission protocol. Is it safe? Absolutely! Mobile access credentials employ multi-layer authentication by combining current key card security encryption with the additional security protections inherently built into smartphones. This type of trend is something to consider and plan for in future design and upgrades.
Whether it is security, audiovisual or acoustics, the aim should be to plan appropriately and to understand the larger goals of the clients to mitigate the risk of redesign in the near or far futures.
Featured in June issue of Office Properties Quarterly.