Hands on Learning: A thing of the past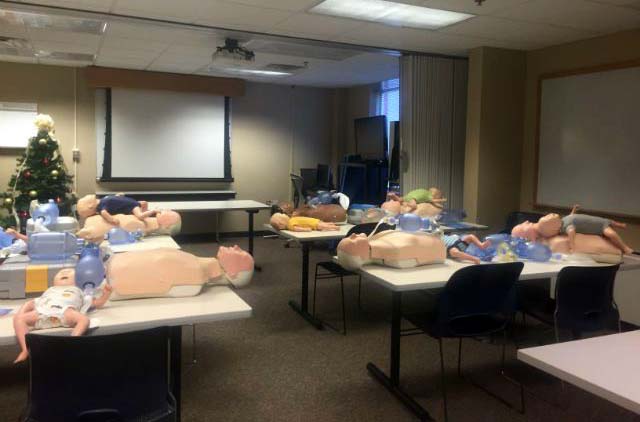 Making mistakes can be a valuable part of the learning process. While hands-on learning with real patients shouldn't be completely replaced, simulation training helps promote patient safety, expands upon critical decision making and thinking skills, and helps promote teamwork among students, teachers and healthcare professionals. As healthcare teaching institutions look to find new ways to teach students safe and efficient ways treat patients, simulation techniques can provide improved patient care and safety without putting the patient at risk.
Real time patient simulations are a new teaching strategy that gives the healthcare professionals and students a chance to develop, refine, and apply what they have learned in the classroom environment. By participating in interactive learning such as simulated patient care scenarios within the actual hospital/clinical setting, this allows them to gain experience and refine their current skills while developing new competencies all without the chance of risking harm to an actual patient.
In simplistic terms, simulation is either a technique or an actual piece of equipment that is "similar" to the real world without putting a patient at risk. Being able to control the actual learning environment with documented feedback is key to simulation and provides a safe way for students to learn. In the real world, there is no opportunity to correct any mistakes or take another approach in hindsight.
New research has shown (2013 Hospital Safety Score) that over half a million Americans are dying from medical or medication errors in hospitals. Learning how to administer the correct patient medication dosage and proper procedure techniques, and teaching students and staff the safe dosage is vital to any nursing or healthcare program. Medication and procedural type of errors are common when the nurse and/or doctor are unaware of the patient's complete health history. Integrated simulators are one simulation technique that offers a realistic approach in a safe environment and reduces patient risk. With virtual reality taking storm, what better way to assess a student's performance than using technology that combines high tech computer simulation and whole or part body mannequins that mimic a real life patient environment?
Students and healthcare professionals are continually challenged to find new ways to communicate with their patients and also to go beyond the traditional method of teaching and thinking. Simulation allows students to be exposed to more situations on a variety of levels during their clinical practice. As the current medical curriculum stands today, students are put into different departments for learning (ED, Med Surg, Surgery, General Practice, etc.) and are limited to what they can learn. Simulation allows for a broader consistency of learning in a lab type of setting where students and teachers are able to experience more patient care opportunities.
Communication and working as a team is important to quality patient care. It has been noted by the Joint Commission that proper communication between the healthcare team and the patient can improve patient safety and outcomes. Errors can occur when the communication between the patient and healthcare professional are not in sync. Patient care settings using a human simulator can provide an effective communication method and give them an opportunity to practice this technique. One such communication technique that is gaining popularity is Situation Background Assessment and Recommendations (SBAR). This new communication teaching method is made up of both verbal and written forms.
Many medical and nursing programs teach skills on an individual level, yet when put into a realistic healthcare setting, more than not, students are working with many individuals. To be able to learn to work as a team, simulation allows for more training in a team environment with activities utilizing representatives from areas such as medical, respiratory, pharmacy, lab, and nursing who are brought together to help assess, treat, and comfort the patient.