InfoComm 2019: User Experience Reigns Supreme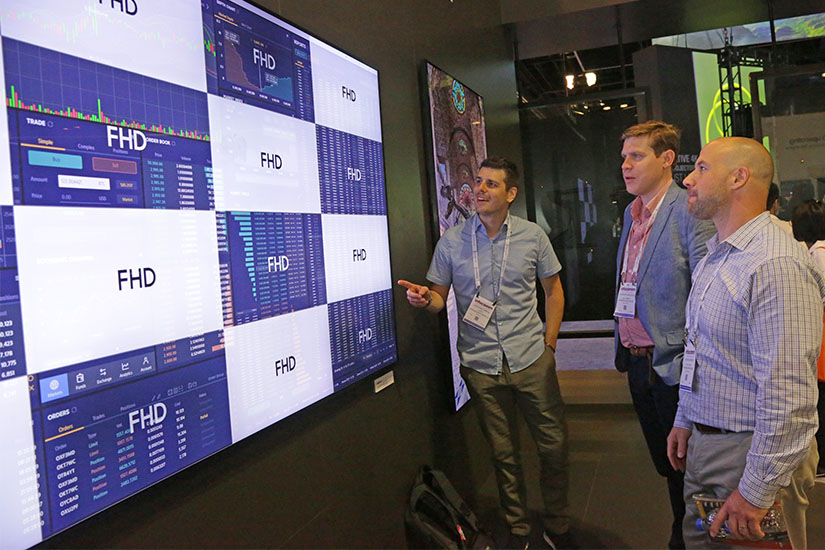 See what we saw, hear what we heard, and learn SM&W's biggest takeaways from InfoComm 2019.
SM&W attended Infocomm 2019 in full force, with over 20 attendees from all over the world. From our President to our junior designers, we take the opportunity to learn with and from each other to stay abreast of emerging trends and technologies. For the last few years we have seen steady hardware advances come out of InfoComm, but this year seemed to break the mold. Although there were some larger technological advances, they were almost entirely eclipsed by refinements rather than new product offerings.
Here's what we saw:
Less Products Per Category
In the past few years, LED walls have come bounds and leaps, especially in comparison to LCD panels. This year was no different. However, what did stand out this year was the fact that manufacturers did not seem to go head-to-head in as many of the same categories. One booth focused on their projectors, while another focused on LED walls for command and control centers, and another highlighted their LED walls tailored towards signage and retail verticals. Typically, we see a ton of market overlap, with each vendor competing to show all the things.  This can often leave attendees overloaded with information and nonplussed. This year's vendor messaging and positioning became clearer, allowing attendees to leave each booth with a better quality of information over previous years' quantity.
A Focus on How Products can be Used
Lately we have seen manufacturers put a focus on how their products can be used, instead of just what technologically sets them apart from their competitors. Manufacturers are partnering with each other across various exhibits and booths to showcase end to end solutions. This has been monumental in not only showcasing the hardware, but giving attendees an experience to witness and play with the products. It paints a picture that allows attendees to brainstorm ways of using these products in their day to day. Let's face it, there isn't a huge of difference between the various LED, LCD or projection manufacturers to the naked eye.  Sure, everyone has their own "secret sauce", and SM&W prides itself on getting to know each product offering in and out, to better design our projects. However, the InfoComm attendees are becoming more and more converged in terms of specialties. We are not all technical AV experts any more. In fact, this year SM&W had multiple disciplinary experts at the show, including AV, Security and Information Technology consultants. We saw many end users, architects, IT designers and technology managers in attendance as well. The day of selling to your "AV nerd" are over. Manufacturers and vendors need to speak to these vast audiences on the use of their products, rather than just the hardware specs.
It Matters What's on the Inside
Many innovations at the show took place inside of the products, rather than on the outside. Several new products brought to market over the past few years were refined this year to incorporate user feedback and evolving industry trends. Trends of stability and ease of use have caused vendors to refine their firmware, software, and the user interface (UI) in their products to deliver a better user experience (UX). Notably, a few touch display manufacturers focused on the UI and benefits of IP cloud collaboration to enhance the experience of their displays. Instead of re-inventing the wheel with different touch technology, they refined the way the touch display integrates within the AV ecosystem, and what users expect. Much of this is driven from the consumer industry as intelligent tech and AI becoming more accessible and integrated.
As the AV industry moves even further into software-driven solutions, we are starting to hit a hardware plateau. User experience enhancement is reliant on software and firmware innovations, which we predict to see further development of at future shows to come.
How do we keep up in this ever-changing industry to remain experts in our field? Through continuous learning, collaboration and industry engagement. We regularly attend industry-specific shows like InfoComm to stay ahead of trends and to cut through the chaos for our clients. See more here.