The secret to successful business development (and it's not what you think)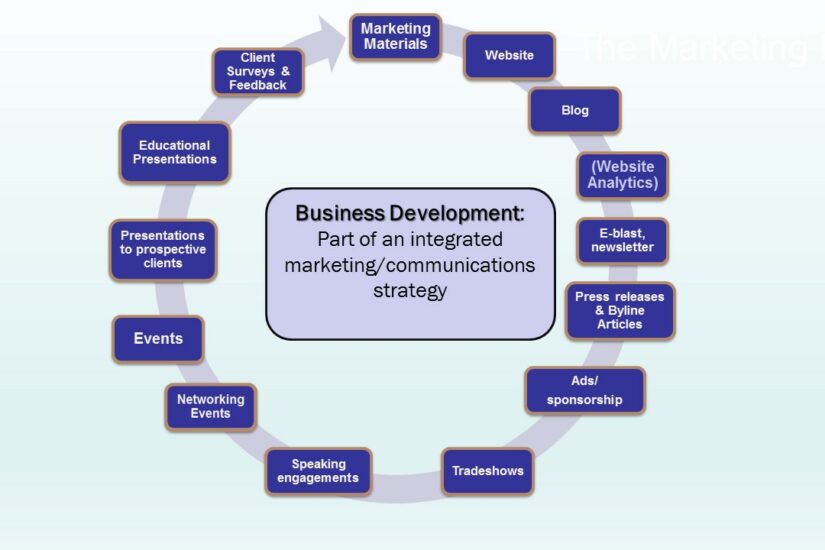 I have been asked many times what the difference is between marketing and business development. The short answer is they are two separate areas of marketing that require different skill sets and personality types. The longer answer is they are deeply co-dependent and require an integrated approach for a successful outcome.
The most successful business development is not based solely on networking, prospecting and follow up. Read on before you scrawl nasty notes all over the comments section: I am not denying that these are important components of a business development program. You can network all you want and you can be a very likeable person with a tremendous number of contacts; but if people have not heard of your company, don't know what benefits your company provides, or if your business's reputation is not sterling, they are not going to give you work. An integrated and targeted marketing communications strategy is the secret weapon of the best business development. It is much easier to share your knowledge via a third party endorsement then it is to make cold calls or ask your network for new business. This is where your brand has become as important, if not more important, than who you know. And the key to your brand is your communications strategy.
Five tips to improve your business development results:

1. Messaging. Listen carefully to the history and purpose of your organization. Know its' services and products, and then target the consumer narrative, including who their current clients are; what their target client mix is; and who and where their target audience is, what they are reading, and what matters to them. Then implement a strategy with the intent to focus and share messages that will reach, convert, and/or attract those targeted client demographics. Further, conduct market research to learn what the competition is doing and what clients are seeking, then facilitate changes that will meet those needs.
2. Storytelling. Bring the company's products to life through storytelling. Work across your organization to develop articles and presentations that align your expertise with your clients' interests. This worked especially well for me when I worked at a small boutique architecture firm that was keen to get published in luxury consumer magazines. I worked diligently to understand not only the content but also what differentiated each of the targeted publications. This allowed me to connect with each editor with specific project information that would be of interest. I invited editors to tour projects as they were completed, and I had lunch with them to build the relationship. Along the way I won placements in various luxury consumer publications. Business walked itself in the door when the target demographic saw those articles.
3. Firm positioning. The storytelling strategy also works well with firm positioning: when I worked in a branch office of a large architecture firm, they were pursuing public school work, but not winning it. After debriefing with clients, it became clear that the firm was struggling with an image of being an outsider. To help position them for this coveted work, I wrote press releases that I placed in the local news media and attended local school board meetings regularly to show a presence. The firm began to gain traction.
4. User experience. Creating user experience is another strategy I have implemented to improve brand awareness. At SM&W we held a-year long 30th anniversary celebration to bring their brand to life. The celebration included the development of a microsite with video content; an anniversary identity; a children's artwork competition to create a 12- month calendar; and a corresponding year-long social communications campaign that allowed the firm to engage with their target audience. At its pinnacle, we developed a client reception. We selected a coveted spot where the firm had provided consulting services so there was a personal connection in the event location, and we invited several long-time, valued end user clients as "guests of honor." Each honored guest delivered remarks that touched on key areas of our practice. Clients attended in the hopes of meeting relevant stakeholders and seeing the event space – they came away aware of and fully engaged with the strength of the firm's brand and keen to build business together.
5.Continuous marketing planning. It is important to work with all levels of a business to create dynamic marketing plans on an annual basis, evolving the plan as needed based on hit rate, web analytics, client feedback, and proposal volume. As part of the leadership team, I share these findings and we brainstorm new strategies and messages. In addition, I partner with the leaders of various practice areas and regional offices to share my findings from client feedback to help them develop their story. The firm's website and social media channels play an important role in broadcasting our message as well as news, events, and articles, enabling us to promote our brand promise and helping us win work.
Of course there is a lot more that goes into creating successful business development strategies, including an in-depth marketing plan and budget, a team of well-trained, informed professionals, and a solid reputation. However, it is important to note that each component of the marketing mix has an important role to play in business development; the power of an integrated marketing/communications strategy should not be underestimated.
Authors