A Day in the Life of a Medical Equipment Planner: Installation Edition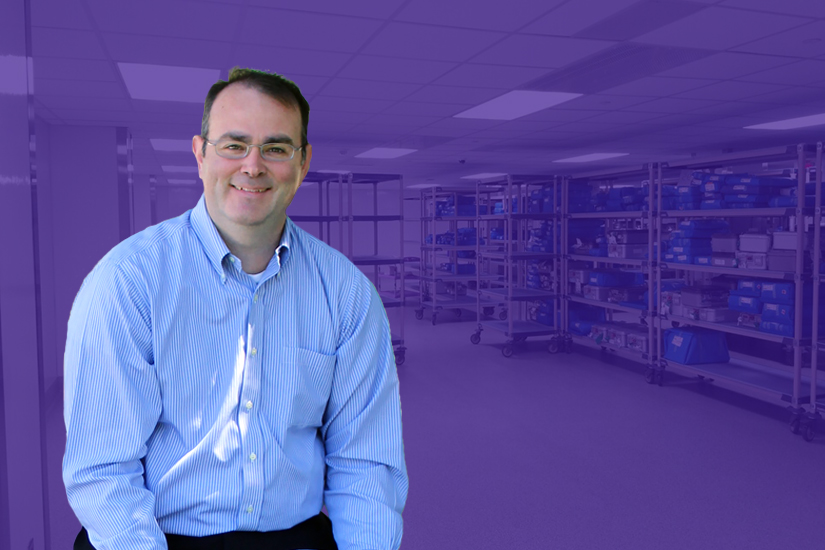 Have you ever wondered what it is really like to be a Medical Equipment Planner? What do they do? What does their day look like? We asked John Mohan, Senior Associate, to keep track of his day at Inova Fairfax Hospital to understand the life of a medical equipment planner. Keep reading to see his what a day during installation is like:
Preparation for install days actually start weeks before arriving on site. First, I have to confirm that all the equipment has arrived in the off-site staging warehouse. If at all possible, I always recommend assembling minor pieces of equipment at the warehouse ahead of time, which will ultimately allow for a more efficient installation process on delivery days. Once you have double and triple checked that all of your equipment is accounted for, you will then want to confirm delivery dates with both the project manager and relevant project team members. This will prevent any potential loading dock and elevator squabbles. The coordination of the delivery is certainly time consuming and tedious, but one of the most vital parts of the installation process as it allows us to prioritize items that will need further coordination (for instance coordination with IT support or the bio-med team) and allows for the highest form of efficiency on install days. Now that all the behind the scenes work has been completed, I am ready to tackle day 1 of install.
7:00 AM
My day starts bright and early. I meet my SM&W medical equipment planning team on site for a initial walk-through to ensure there are no obvious problems. Again, its all about preparation. We have experienced things like a blocked loading dock or even no cell signal eliminating internal communications. Attacking these issues, if presented, as early as possible gives us the best shot of avoiding any major delays.
8:00 AM
The first delivery truck arrives from the warehouse with medical equipment. All the equipment is first removed from the truck and then checked against the manifest to assure the correct items and quantities have arrived. Equipment is then divided into sections: items needing assembly or installation and items that are ready to be deployed to their respective locations. Depending on the size of the installation, several more trucks will arrive throughout the day repeating this same process.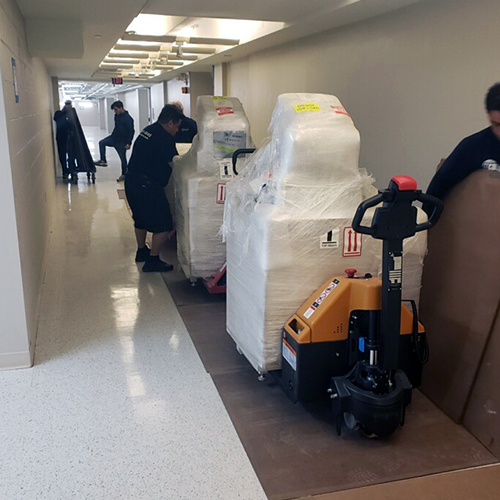 8:30 AM
It is time to take the architect elevations for a walk-through of the space along with the nursing team and installation crew in order to identify the final locations for any items that need to be wall-mounted. This walk-through serves both our team and the owners ensuring items are hung or placed in the most efficient locations for care providers.
9:00 AM
I touch base with the project manager to see if any issues may have come up with us being on site and/or with any of the equipment and where they are being placed.
10:00 AM
I walk through the space again to see that everything that has been placed on the floor is placed correctly. If not, it is still early enough in the day to correct the movers and have future placement of equipment to their proper locations.
12:00 PM
Finally, lunch time! Not only an ideal time to eat, but also to sit down for the first time all day. I also take this time to go through paperwork and see what has arrived, and what is slated to arrive later in the day. This also helps me verify what might be missing from the warehouse and find out where it is. If anything is missing, I typically will spend my lunch break calling the warehouse to finalize deliveries, dates, and the size of crew needed for these additional deliveries.
1:00 PM
I meet with the movers' Team Lead to see where they might need more help in order to divide responsibilities across my for the remainder of the day. Many may not realize how many equipment items there are, ranging from trash cans all the way to major medical equipment. However, just know that these install days are very much an all hands on deck scenario.
2:00 PM
I perform a final walk-through for the day to create a punch list for all the space(s) that received equipment. Our team checks each room to assure that the equipment in the room is the same equipment on the equipment list, and that it is in its correct location.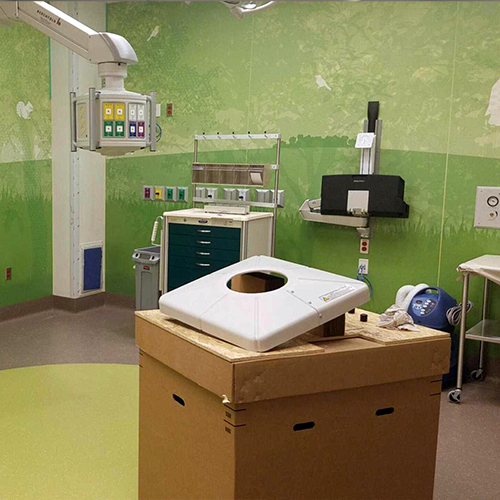 4:30 PM
As we near the end of the work day, it is time to sign off on the installation crew. I thank them for their hard work and a successful day of installation, and confirm their time for arrival tomorrow. Lastly, before they leave, we check the dock one last time for things that might be out of place and note that everything is in good condition.
5:30 PM
While the work day might be over for the installation crew and other project team members, it is time for me to head home to catch up on any emails from today, to clean up and loose paperwork, and update the process control log. I also spend this time prepping for the following days of install, getting myself prepared.
Install days are long and tiring, but are over in a flash because of all the moving parts. Perhaps one of the most important things you can do for yourself on these days is to wear comfortable shoes. As you can see from my diary above, you are walking around a ton. I walked about 20,000 steps today, but have hit numbers higher than that before depending on the size of the healthcare space and other factors. It is also important to remain patient during these days, as things won't always go as planned even if you have prepared and triple checked everything. Concealed damage to equipment, elevator outages, or communication issues can always cause delays, but keeping a cool head, consulting your team, and facing issues head on are the best ways to tackle these tiring days.
Interested about learning more about a day in the life of a medical equipment planner or our healthcare services? Check out our healthcare page.