The Importance of Mentoring from a Subject Matter Expert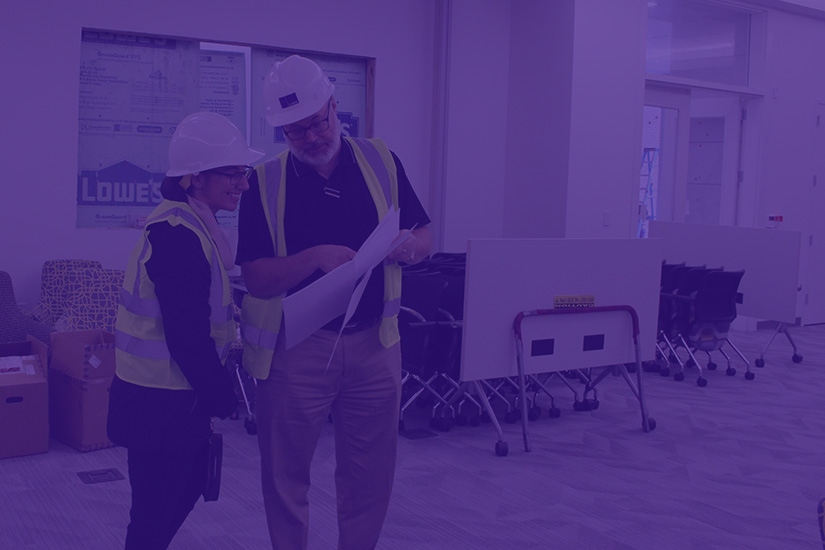 As consultants, we are called on by our clients as Subject Matter Experts (SME) to provide guidance on architectural projects with our specialized knowledge in acoustics, AV, information technology, medical equipment planning, and/or physical security. While we collectively have innate talents and knowledge, our craft and experience has been accumulated in a multitude of ways throughout the years. Many of us have undergraduate and graduate degrees in fields related to our occupations, while others have years of hands-on experience and industry knowledge. Some of us, like myself, even started in completely different fields, and for varying reasons have wound up in the industry where we are today. However, no matter how we got to these design and engineering roles, it's the fostering of education and nurturing of training that is a key to building an innovative Subject Matter Expert.
Before starting at SM&W, I went to school for Education and worked as a paraprofessional full time while pursuing my degree. Ultimately, I decided this career path wasn't my passion, so I switched gears by joining the security industry. After many years, I transitioned over to the consulting side of security design (or the "dark side" as some jokingly call it). I have now been with SM&W for nearly seven (7) years and I'm still amazed at, not only how welcoming my peers are, but how willing they are to help me continue to succeed.
I recognize how incredibly fortunate I am to have been a part of the SM&W team, due not only to the breadth of knowledge and experience shared amongst our consultants, but also due to the longevity of the firm and its tenure in the A/E/C community. By being on the receiving end of the life altering impact of the mentors at SM&W, I've learned that it is our [the mentees] responsibility to continue to share the wealth of knowledge we have gained from our mentors and our individual journeys that got us to where we are today.
The environment SM&W fosters is summarized by one of the first things my supervisor told me: "there's no such thing as wrong questions or too many questions." Entering a brand-new field at a brand-new company was incredibly nerve-racking. Unaccustomed to proper mentorship, my mindset was to be your textbook overachiever. This entailed overextending myself and making assumptions; and while showing how ambitious I was to succeed might have earned the respect of my peers, it also led to avoidable pitfalls. However, as a result of the mentorship I've received over my tenure at SM&W, I can proudly say that my 'wins' vastly outweigh my 'losses' and I've been able to turn those losses into teachable moments for those who are now entering the security consulting arena.
As I transition into a mentorship role, I've learned that as an SME, it's imperative to make myself available to my colleagues, to answer the challenging questions, and to help them over the inevitable hurdles. Whether it's a casual conversation about their career goals or picking their brains about aspects of the business they'd like to further explore, the key is to invest in their success and guide them through their individual paths.
At SM&W, we host internal "Lunch & Learns," which allows our staff to share the latest trends, emerging technology, and the lessons learned along the way. This conversation then carries over into the workday and proves the importance and significant impact of sharing knowledge. Knowledge and experience are not commodities that should be guarded or protected selfishly, but rather shared for the betterment of the team. A true leader understands that in order to be truly successful as an individual, your entire team must share in that success. From firsthand experience, I can honestly say that there are few things more rewarding than seeing someone you've mentored achieve success.
I am fortunate to have had mentors from all walks of life—all willing to provide insight and guidance. And while I am now becoming a mentor myself, I have not lost sight of the importance of continuous knowledge and growth. It's crucial to remain humble and recognize that there is something to learn from everyone at all levels. Knowledge has no confines nor prejudices; so as long as you remain open, there are limitless ways to expand your depth and catapult your growth. SM&W has taught me that through their practice and I will always be grateful.
In closing, take the leap; put yourself out there to your colleagues, clients and industry contacts. Don't shy away from the unknown but rather embrace them and use what you learn to mentor those who are struggling to find their footing. And if you should ever find yourself in a challenging position or just have some questions, my door is always open. Come by and let's learn together.