Preparing Classrooms to Employ Technology in the New Norm
Let's face it – no one likes change. Especially when its thrust upon us without the ability to strategize and there is no time to plan, adapt and assimilate.
As Educators, it is a challenge to get comfortable with the needs of learners as technology becomes integrated into our lives at an earlier and earlier age. Newly incoming students have become digital natives with new and different expectations of learning environments.  Education in the 'new norm' has added yet another dimension to the ever–complex world of reaching students, not only intellectually, but now physically.  Students arrive (physically and/or virtually) to class expecting a certain level of tech-enabled education, customized to fit the way they prefer to learn. These additional considerations have created a Blended Learning Environment of traditional educating, technology expectations, and remote learning capabilities. 
Spaces must be capable of flexibility that can support traditional face-to-face learning just as well as the Blended Environment. Meaning they must embrace interaction and collaboration both internally and externally, as if one space, without the requirement for a technical degree on the part of the educator or student.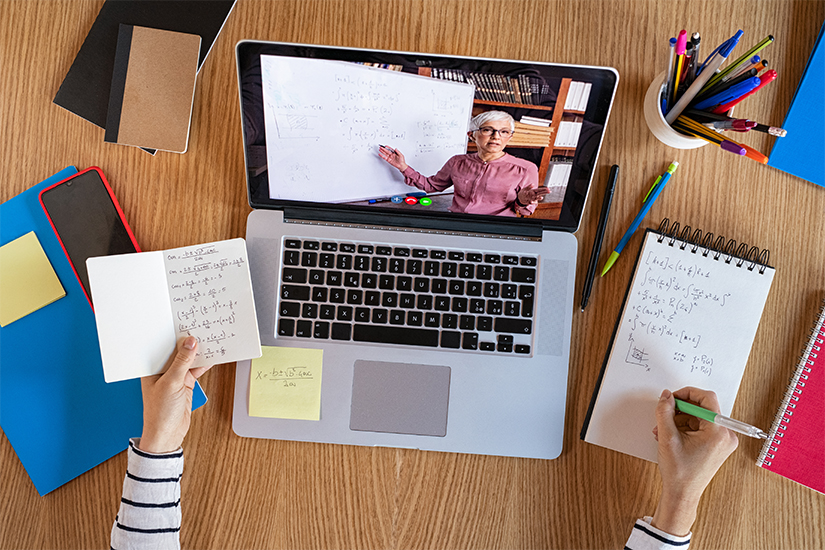 To address this, let's consider a multi-pronged approach to preparing learning environments for this new blended methodology of teaching and learning. We need to consider the physical and virtual space, the curriculum/lesson plan, and the technology. Each has a key role in this effort.
This article will deal with a combination of the technical aspects of the larger discussion.
TECHNOLOGY SUPPORTS EDUCATION NOT VISA VERSA
The roll of technology has long had a roll in classrooms. I got my start in this industry in grade-school as the projector nerd. Being the only person in my entire school that learned how to thread a 16mm film into a projector, change lamps and perform minor repairs, provided a level of comfort to teachers who were not tuned into 'technology' at the time.  Fast forward to today, and technology has become much more ominous to instructors, while students seem to have kept up with the changing landscape.  Initially, films were shown to support a teaching point within the curriculum. Today, however, technology provides the opportunity for so much more.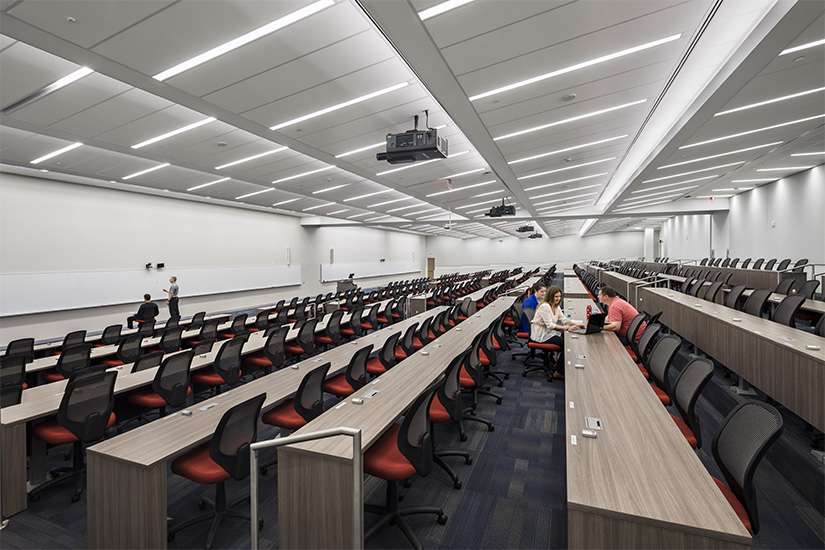 So, what do our classrooms need to facilitate this Blended Learning Environment? First, lets inventory what we currently have available.  Some categories of technology might include:
> Video/data projector of medium or low resolution and brightness
> Projection screen at the front of the room
> Flat Panel Display
> Small speaker system to allow audio content from a video source
> Remote control system consisting of either a touch screen/physical button panel, or possibly a wall plate with push buttons
> A small audio system to accommodate ADA requirements
> Interface for recording class presentations for archive and a-synchronous access to content by students
> Electronic white board
> Rooms lighting status. Is the lighting able to allow cameras to view the instructor and students evenly while not washing out the image on the screen?
> Room window treatments are often recommended to manage glare on screens, at instructor workstations and for other students in the room.
Developing a matrix of spaces and their capabilities will allow us to determine what, if any, provisions are missing, to facilitate blended learning.
NECESSARY RECOMMENDED CONSIDERATIONS FOR AN EXISTING ROOM
Possible additional provisions to manage a Blended Learning Environment might include:
> Class Management software that interfaces to online learning needs of the instructor, automates the technologies available, and provides a single user interface that simplifies the operation of the room. This can allow the instructor to accomplish their tasks while not impinging on the intent of the class. This component is a significant, however, it can be the most difficult to get aligned to the instructor.  There are many options, but there is no right choice for every classroom. Selection of the correct software interface can be the component that makes the user experience.
> Brighter projection, possibly with an interactive interface.
> Screen replacement to increase perceived gain from marginal projector brightness or an older screen material.
> A flat panel display to replace older projection systems with lower resolution and lower image brightness.
> Audio amplification of the instructor and local/distant class participants which may include microphone technology, signal processing, speakers and amplification.
> Live streaming and recording devices with associated software for synchronous and a-synchronous learners to access content.
> Network connectivity (generally a physical connection) to the classroom system that incorporates the bandwidth necessary to accommodate high resolution content and two-way audio.
> Wireless connectivity, for in-class participants (used for research or access to content outside of the classroom) that include each person in the room with active access to the internet, while class is in session.
> Electronic whiteboard (hardware or software) for collaborative annotation and instructor notes.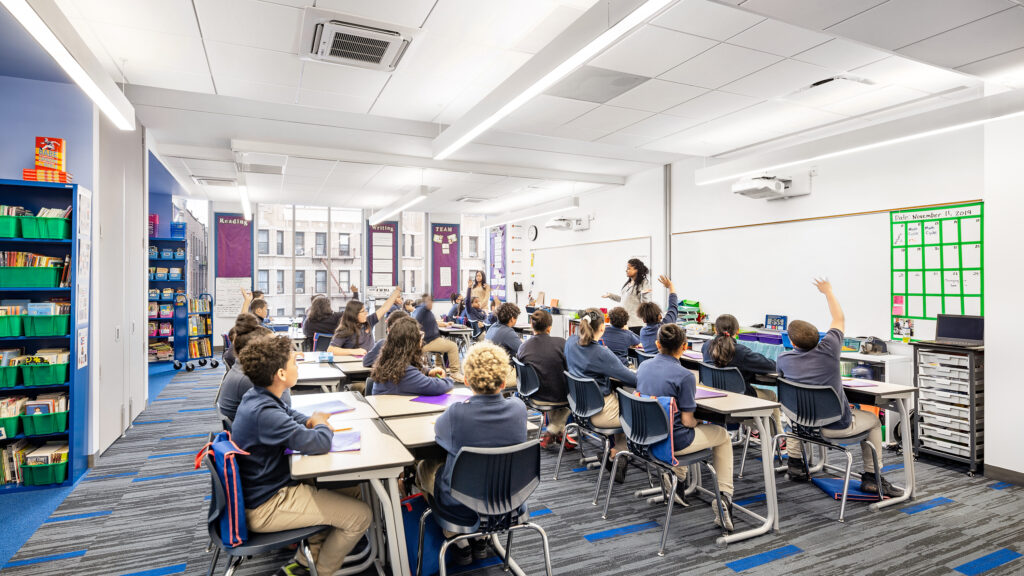 > Enhanced remote control system (wired or wireless) that will foster instructor confidence and mobility as required.  The control system should automate most functions that relate to audio mixing of sources in-room and remote, selection of cameras during dialogue, and collaboration and simplified selection of presentation content from within the room or the remote learner.  The control system should also provide the instructor with simple capability to manage display of student PC's during a class, thus accommodating sharing of information while being able to limit access by other PC's when not needed.
> Video camera(s) to gather input of the instructor and the classroom. One camera is generally located in the rear of the room, facing the instructor, while a second camera is located at the front of the room to gain the instructors perspective of the class.  This allows the remote learner(s) the opportunity to feel like an active participant.
> Room Lighting should already be designed to provide ample light for the instructor and students within the room without washing out the projected image, however we still see rooms with lights shining directly onto projection screens, while the instructor is in a dark shadow.  This should be reviewed and considered when bringing a room up to blended learning capabilities.
> Room Security (beyond physical access) enhancements to create a touchless management for monitoring the number of people in a class at a time, monitoring the room environment in terms of lighting, cooling, heat, possible temperature scanning, locking the room when not authorized for use, etc.
> Artificial Intelligence applications that utilize the other technologies identified above, to provide feedback related to the rooms use, use of technology, number of students at any time, testing, and collaboration interaction between in-class and remote learners, etc.
To facilitate effective instruction that engages all persons involved, technology must support the entire educational process.  This does not mean that if you build a technically advanced space, they will come (so to speak), but that it can in fact be the opposite.  This is not about technology for technology sake.  This is about supporting learning with technology tools.  Stake holders (both instructors and students) need to be considered when determining how they will communicate in each unique culture online.
More on Our Author:
Randy Tritz is a Partner at Shen Milsom & Wilke. In addition to running our Chicago office and providing decades of audiovisual design expertise, Mr. Tritz has also been an educator both for professional organizations and at the University level. Due to his proven experience and expertise in the field, Mr. Tritz is the leader for SM&W's Educational Market Sector.