How To Succeed While Working Remotely: Tips to Maximize Productivity & Remained Engaged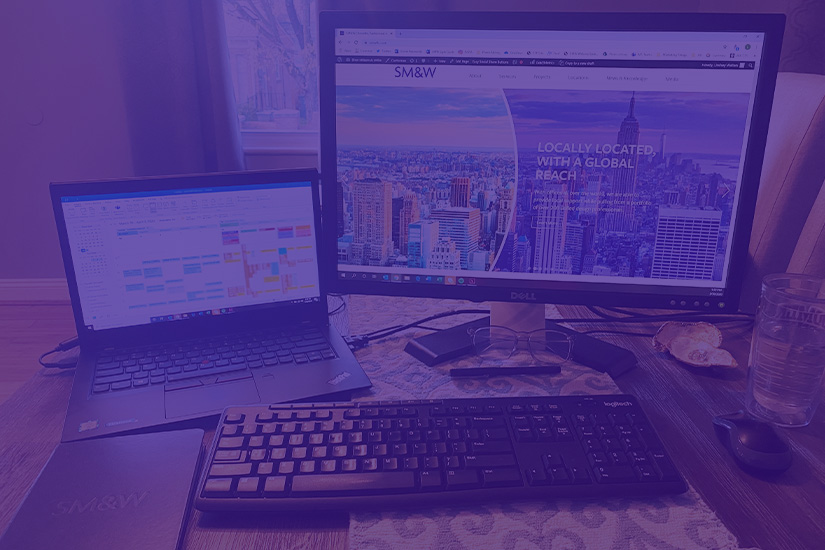 Working remotely has its fair share of challenges. As we navigate through the effects of COVID-19, SM&W helps you cut through the chaos to making the most while working from home.
As more and more states are being mandated to remain in their homes, more and more offices are now replaced by kitchen counters, dining room tables, or, if you are lucky, home offices. If you find yourself working remotely, use these tips and tricks to to maximize productivity, remain engaged, and find a balance between work and life.
Make Virtual Meetings Great Again
From "sorry I was still on mute" to the child crying loudly in the background, virtual meetings can sometimes be more chaotic than productive. How can you make the most of your meetings while working remotely?
– As soon as you set up your meeting, set roles for your conference call. This includes moderator, note taker, presenter, and those responsible for post-meeting followup.
– Check with your colleagues to ensure all can see the shared screen/content.
– Don't be afraid to turn your video on. Video allows us to connect as if we were in the room together. You can read emotions, reactions, and engage more if you can see your coworkers and clients. And don't forget to smile!
– Raise your hand to signal you want to speak to avoid abrupt interruptions.
– Use the chat function for links, documentation, or submitting questions.
Stay Connected to Your Team
Have you ever heard of the saying "out of sight, out of mind"? It rings especially true when working remotely. In my humble opinion, there can never be too much communication while you and your team are working from home.
 – Communicate frequently. Set reminders or regular calls to check in with your team regarding open projects, needs from internal staff, and future goals. Don't be afraid to over-communicate while you do not have those face-to-face interactions. Something as simple as a daily 10-minute call will allow you to touch base and remain on task, while not over-using valuable work time or losing focus.
– Be mindful of tone, language, and perception. Because a lot of your communications may be via email or chat, tone can be construed in many different ways.
– Utilize team chat channels like Microsoft Teams, Slack, or Google Chat for informal and quick communication.
– Keep coworkers engaged on a personal level by setting up a virtual lunch, happy hour, or team-building game. Games like those available from JackBox can easily be played using any video conferencing software, and are a great way to refocus and re-energize your team.
– Don't put collaboration on the back burner. Just because you are not together does not mean you cannot brainstorm with your team. Video conferencing, whiteboarding software, or simply having one person notate/draw on camera are simple solutions you can utilize.
Maintain Your Work/Life Balance
Now that we are working from home, it is easy to blur the line between working and living. Separating these two worlds is key for maintaining your health and well-being. Trust me, overworking can sneak up on you.
– Set boundaries with yourself. Shut down your computer at the end of the day, just like you would if you were leaving the office. For those of you remotely accessing your desktop in the office, make sure you log off, not turn off! Decompressing at the end of the day is important, which means no work emails, calls, or chats after hours unless they are urgent.
– Speak with your supervisor about creating flexibility within your work day. Things like having coverage beyond business hours or balancing childcare between your spouse's schedule may be necessary during this time. Extended lunch breaks, early or late start times, or temporary shift schedules all may be beneficial.
– Set proper expectations with your new "coworkers". Family, significant others, and roommates should all know when you are working and when you are not. Share your calendar with those around you to ensure when you can and cannot be interrupted.
 – Be aware of others schedules, and help them be accountable during this time. Notice your colleague in New York is online still at 8 PM? Urge for them to sign off.
 – Don't be afraid to take a sick or mental health day if you need it.
Make Your Home Your Office
Even though you are not physically headed to the office each morning, it is important to keep your routine as normal as possible while working remotely.
– Get up, get dressed, and have your coffee! When you wake up in the morning, don't immediately fire up your computer. Although it may be tempting to work from bed, maintaining your routine and letting your mind settle will keep your productivity up.
– Take breaks throughout the day, being sure to show them as such on your calendar. Take a lunch break, spend time outside with your family, walk your dog, or go for a run. Breaks allow for a more productive day, so take one!
– Maintain visibility for your team. This does not stop at your calendar availability. Update your status on Skype or Microsoft Teams letting your coworkers know when you can and cannot be disturbed, that you have stepped away from your desk, or even what you are working on right now.
– Make a dedicated WFH space that gives you inspiration and motivation. Settling in front of the couch and TV may sound appealing, but may not allow you to focus on work. Key elements of a productive workspace include lighting, a comfortable chair, and an acoustically-appropriate area for calls and meetings.
Authors