Considerations for Building Esports Facilities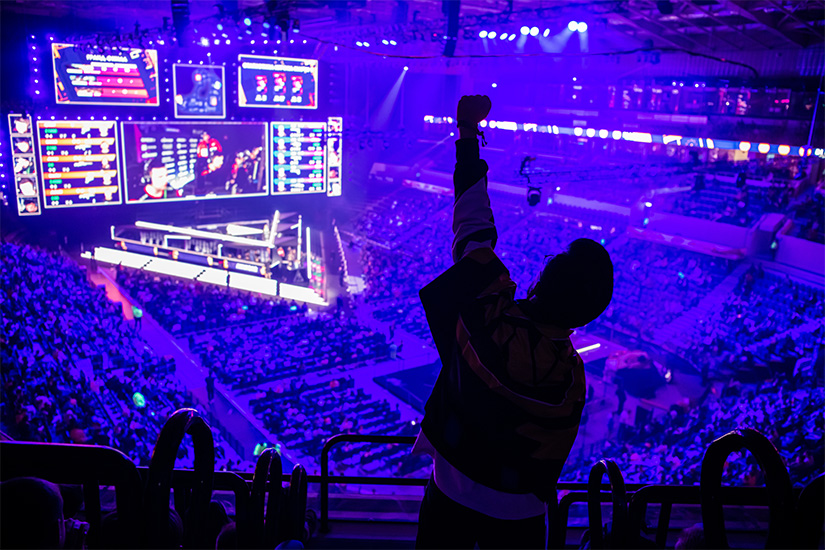 In an industry predicting billions in global revenue, the facilities that house Esports are unique among traditional sports venues. In this nascent industry, where both professional teams and universities are building a range of facilities to accommodate competition and training environments, their needs are different from your typical sports arenas. They require careful planning and for a project to be successful, technology and acoustics design play a key role.
In Asia, we are seeing an increase in dedicated Esports arenas being completed. We are also seeing massive development in Esports planning complexes beyond arenas and into complexes that include vendor space and training facilities, education facilities and themed experiences. Universities throughout the United States now have over 130 Varsity teams and are building out spaces to support them.
From lights and cameras, to video displays and sound treatment, here are some important things to consider, whether it's a "greenfield" development or an adaptive re-use project:
Display/ Broadcast/ Production Studio
Given there is no physical field where Esports' games take place, video displays become a critical design factor. Fields of view for the gamers and for the spectators require a network operations center design approach where both the consoles and the main video wall simultaneously display content. Gamers want ergonomically designed play space, including displays with 360Hz refresh rates and low systems latency and displays sized to keep action in their field of view. For spectators, sight lines need to be optimized for the fans' view of this new playing field – the video display. The display refresh rate and brightness are factors in the arena. Distributed audio and video are key in both training and arena spaces.
Large video walls are being utilized for content display and broadcast production support. The design challenges center around video content capture for both the live stream, the video feed of the gamers, and the accompanying audio. In live events, PA/foldback speakers have to be carefully oriented so that live discussions between same-team players are broadcast to the live audience but not to the other teams in a competition.
Network
Since network speed and response time play a major role in the experience for players and spectators, it's not an over simplification that  robust networks with high data rates are needed. Even a 10ms additional latency will create unfairness among different players/teams in the same game, so the design requires the fewest network hops to incur the lowest latency. For WiFi, a network needs to be dedicated, and the current generation of typical University WiFi networks cannot be effectively used for competitive gaming purposes.
Acoustics
From university to professional training venues to large scale event venues, acoustics for both sound control and sound isolation are critical to get right.  Many professional facilities have streaming booths and broadcast studios. Sound isolation is critical so that adjacent sounds won't intrude in the broadcast commentary. For large scale venues, controlling reverberation and designing for speech intelligibility are the focus. Both large and small venues should have carefully designed mechanical systems, and acoustical review must be done to ensure that noise and vibration is controlled for the appropriate size, shape and space use.
For these specialized spaces, assembling an experienced and highly specialized project team has an enormous impact on the success of a project.