Understanding Visitor Management Systems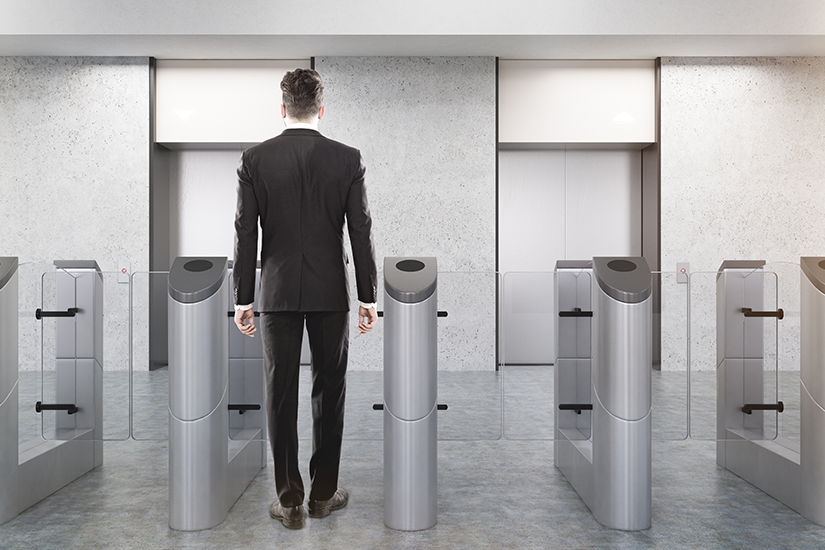 What is a visitor management system and why is it important for our projects? A Visitor Management System (VMS) tracks and manages visitors for a business, building, or site. By gathering visitor information and tracking, a management system can record the usage of the facilities by specific visitors and provide documentation of visitor's whereabouts. Since visitor tracking provides a record of use, the systems are frequently used to complement building security systems and access control systems. As electronic Visitor Management Systems are becoming more common and more powerful, these systems are taking over many of the functions of building security lobby staff, as they can integrate with an access control system to provide a seamless experience for visitors and staff.
Typical VMS Capabilities:
– Provides an automated method of communication through SMS, email, or automated phone call to both visitors and employees/tenants. This includes notifications for things like  registration and sign-in/sign-out.
– Provides a dedicated tenant interface for a multi-tenant building. Tenants can manage their visitors, configuring their own access & control needs into their portion of the system.
– Has the capability to not only manage visitors, but also vendors, contractors, and deliveries through the same registration methods. The system has the added benefit to leverage License Plate Recognition (LPR) at gate controls or loading dock entrances, enhancing security posture and operational efficiencies.
– Leverages open architecture and open API to integrate with various access control systems, Microsoft Active Directory, and smart building platforms.
Over the past few years, even before COVID-19, the AEC industry was seeing an increase in streamlined and touchless VMS'. These upgraded platforms shifted users away from the tried-and-true paper log approach and transitioned them into utilizing technology to help manage their intake of visitors. Facilities ranging from single-tenant office buildings to large, multi-tenant Class A office buildings, healthcare facilities, and even K-12 schools all use visitor management systems. In addition to helping manage a typical visitor, a VMS manages vendors and scheduling deliveries, creating a safe and secure experience for both visitors and tenants.
A VMS typically operates through the process of pre-registering visitors using a portal via web browser, mobile app, or in-lobby kiosk. Once visitors enter their information into the system, they are registered through the VMS' workflow process that can include background checks and clearances. The workflow can check visitors against a watch list or identity database that is defined by the system's administrator. Administrators and other approved users can then manage updates and changes to visitor information and schedules without having to disrupt the lobby or check-in desk.
Today's visitor management systems provide high levels of integration to access control systems. This allows a visitor to receive a QR code from the VMS to their smartphone which can be used at QR-capable access control readers for access into the building. These are common in a turnstile in a multi-tenant office building and further streamline processing visitors. Additionally, these systems also free up security lobby staff from manually granting access to each individual visitor. The typical VMS workflow includes: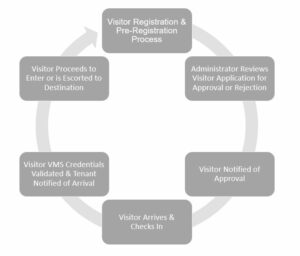 The use and implementation of a Visitor Management System not only bolsters your facilities security posture – it also provides efficiency in security operations, and better prepares your facilities for threat escalation and visitor tracking and reporting.