3 Paths for the Future of Hybrid Classroom AV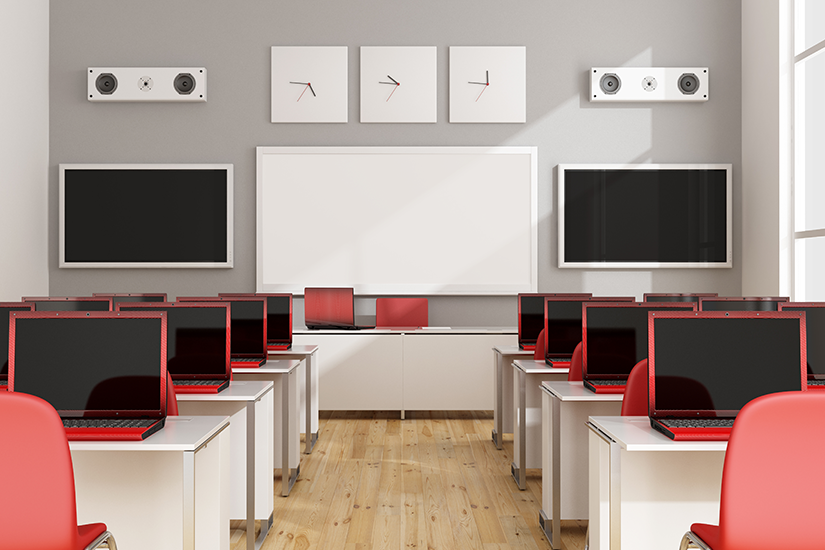 It's become clear that hybrid learning is here to stay. Over the course of the last two years, many educational institutions have scrambled while trying to get a robust and reliable distance learning platform deployed. While some schools already had distance learning platforms, they may not have been designed to handle the drastic shift in how remote learning needed to be handled. Remote learning is no longer about triage and making a tough situation work, schools now need to create a better remote learning experience that brings remote students closer to an in-person experience, while not neglecting the students in the room.
In many scenarios, remote learning can allow colleges and universities to enroll more students than ever before, partly due to accessibility for students that may not be able to travel or pay for the higher cost of living on campus. Remote learning options also allow facilities to reduce the number and size of classrooms by instead, utilizing multi-use spaces to help cut back on facilities costs and maintenance. Understanding these benefits, many schools are beginning to look seriously at how they need to adjust their approach to remote learning, while still making sure the in-person participants don't feel neglected. This is the biggest challenge in AV design today with regard to these hybrid classrooms. How do we design a remote learning system that can improve the experience for remote students, but not require the instructor to have to constantly manage the technology and distract from the in-room experience? In terms of a high-level approach, there are three main paths available to education institutions that we will explore.
Basic Approach
The first path schools can take is to outfit their classrooms with a basic level of technology to support remote learning. This is the most common solution already found in classrooms today, and the lowest level of hybrid learning. These systems typically consist of a camera or two, connected to a manual video switcher along with presentation sources and microphone audio. Video and audio feeds are then routed to a streaming device or computer. This essentially creates a more advanced version of a web conference call you'd have from your own computer. In the last couple of years, this approach has not been very engaging for remote students. They often feel like they are just a fly on the wall watching the class, instead of being able to interact with the instructor and other students in the room.
Enhanced Approach
Through experience with the first approach, we have learned that if the instructor is expected to constantly switch camera angles, manage remote participants, and still engage in-room students, the quality of the overall lesson falls. So, the second path is what will likely become the new norm moving forward. These solutions build on the basic approach to creating an environment that promotes engagement and collaboration between all students and the instructor. These types of AV systems don't necessarily mean more technology, but rather smarter technology. Enhanced solutions utilize products that can communicate with each other to start automating more of the AV technology to help create a more immersive experience for remote students and take the technology management burden off the instructor. This type of system can involve cameras that include tracking and detection features, allowing microphone arrays in the ceiling to trigger a change in camera angle when a voice is detected. This way if a student in the room speaks, a camera can automatically switch to show that speaker and if a remote student speaks, they can be highlighted on screen. Further advantages involve detecting when the instructor is drawing on the whiteboard or speaking to the class, automatically adjusting the camera angle and zoom based on what the instructor is doing. This level of technology is currently available and is an efficient and cost-effective way to increase the success of your remote learning platform. These types of AV systems mostly rely on the current programming capabilities already available in most control systems.
Advanced Approach
The third major path for remote learning may seem like science fiction, but much of this technology is already being developed with some pieces of the puzzle already here. These systems build again on the enhanced path, further leveraging AI and machine learning to create a more fully engaging experience. As the AI in tracking and detection systems becomes smarter, we start to see more automation and features built into devices. The cameras, microphones, digital annotators, and other devices will be able to communicate and learn from each other to help adapt the system over time. This means that the AV system can actually learn the habits of specific instructors and classes. When this level of automation is combined with a robust remote learning web platform, remote students can really feel like they are in the classroom because they are allowed to communicate and collaborate seamlessly with other students and even share content with the entire class. By leveraging AI everything can be done without needing the instructor to constantly manage a touch panel. We are already seeing some high-profile Universities requesting this level of technology, and even going a step further by inquiring about the use of virtual reality. While virtual reality is a whole new topic that needs further exploration itself, elevating a remote learning system to this advanced level, can allow schools to introduce the required camera and tracking technology to bring VR learning to life. While this level is still in development and not quite user ready, it's exciting that this level of remote collaboration is not out of the realm of possibility – and is closer than you may think.