What's Next in AV?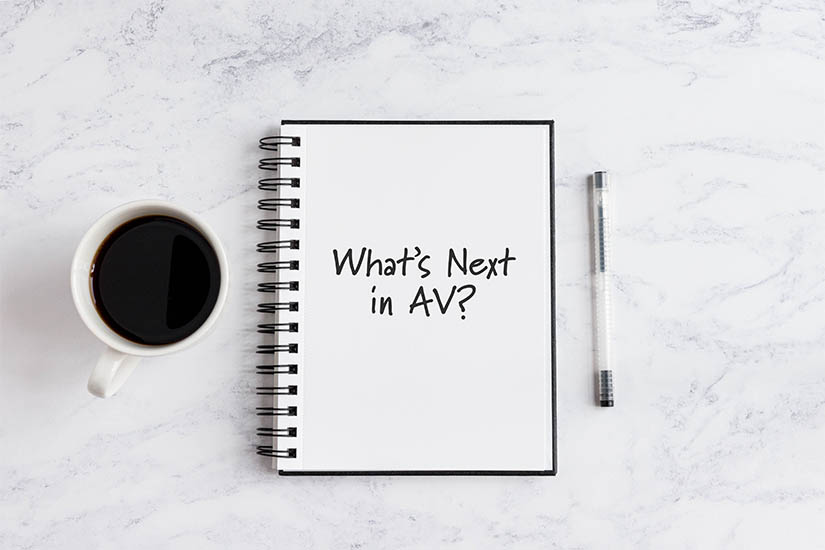 SM&W's AV Design Team recently gathered remotely to brainstorm the future of AV, as a follow up exercise to our
"

What's Next" webinar

. Keep reading to find our what our AV experts, led by Mark Peterson, had to say on the future of AV.

Sometimes, innovations open new doors and shift goals, re-set the way we look at problems and suddenly what was a critical barrier to success is no longer an impediment. Take for example the success of web conferencing. Just a few years ago, booking a staff meeting was an arduous task. You had to know when everyone was going to be in a certain building, identify an available slot that aligns with an available room, and make sure the room is the correct size for the group. Adding a simple web link to a calendar invite was a paradigm shift. It no longer mattered whether or not participants schedules changed, everyone dialed in to the meeting from wherever they happened to be that day. This dynamic meeting capability became common place during the pandemic. In order for schools to successfully shift to zoom, the challenges of locating the instructor or finding the right classroom had to be remove so that  teaching and learning virtually could be done from anywhere.

Even the most impactful technologies are fundamentally beholden to the ease of adoption. It's human nature to choose the most convenient option. Whatever requires the least amount of effort is what will become common place by the largest audience. That's probably why virtual reality headsets have been  noticeably absent, and why WebEx and Go2Meeting languished. Zoom became such a successful platform because it was so easy to use.  Zoom did not require the user to have to find and enter a password; it was buried into the dial string. That's changed now due to the security risk it poses, but it illustrates the point that ease of use is critical factor for success when we look at the future of AV; users may try a variety of new things but will always opt for the most convenient option.

Because of the nature of our consultant practice, SM&W is witness to AV trends across a variety of verticals, including Hospitality, Hospitals, Higher Education and Corporate Enterprises. Our University clients, for example,  are using the current pandemic situation as an opportunity to evaluate the successfulness of their curriculum on the virtual platform so that they can then allocate physical spaces for the most successful programs, or portions of programs that are most dependent on tactile learning. Campuses being outfitted with more flexible spaces, hybrid classrooms that can flip between in-person, remote learning and combination. To match physical space with variable attendance (students and instructors may be remote from week to week), we are likely to see greater use of dynamic room allocation based on in-person attendance tracking, rather than tie up lecture halls based on semester enrollment numbers. Since students are already familiar with using mobile apps to join the virtual session, schools can use the same portals to determine who is planning to attend in person, match that to room capacities and provide the associate classroom number.

On the Corporate Campuses, clients are telling SM&W that they need tools that fit with the new ways they are communicating with their workforce. Previously, townhalls were mandatory in-person sessions. After successfully conducting large events over zoom, executives want to use more web conferencing and live streaming. Rather than investing in traditional broadcast equipment and outfitting auditoriums with multiple camera operators, we can anticipate a need for more budget-friendly "broadcast-lite" spaces. Instead of dedicated hardware intended to provide mission-critical must-not-fail reassurance to high profile events, clients are getting more comfortable the idea of meetings running on a PC and switching between USB cameras using a touch panel or Web portal. Some of our clients are interested in smaller studios that support higher quality and only a few local talents and using virtual backdrops. Others want larger spaces that can safely accommodate their entire staff on-demand; but rather than investing in square footage for those infrequent use cases, they are looking closet at the options of renting external meeting spaces, or spaces provided by the landlord that are equipped and staffed to host these types of occasional events.

Whether a small studio or large multipurpose space, these types of use cases are not solved simply by inserting a black box USB converter into a PC. These facilities need to be designed effectively, with good sightlines, lighting, acoustics and audio. One should anticipate that keynote presentations will be from remote locations, so the investment in quality of the technology is not just in the room, but also has to consider what's at the far end. Fortunately, over the past few months leaders in these companies have experienced the participant's perspective. Look for companies to have a much better understanding of that they want and to raise their remote work technology standards to include better lighting, better performing audio and video devices along with faster PCs and robust network connectivity. Look for remote office solutions to explode as manufactures ramp up to meet the demand for web cameras and headset and in the process deliver high-end features like noise blocking and mute/unmute notifications.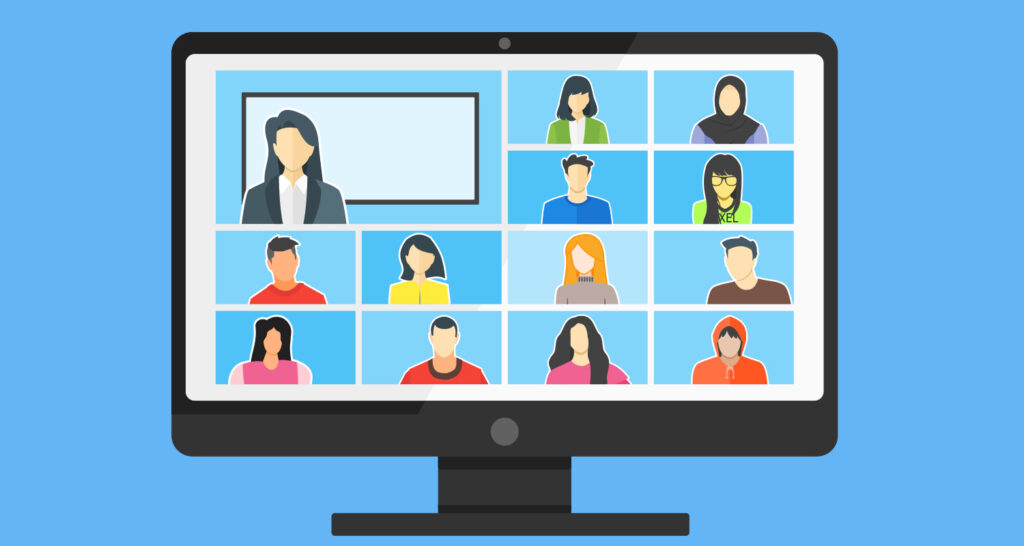 Providing an engaging remote working experience is also how companies will compete when it comes to recruitment and retention. Employees will want the option to work remotely or come into the office, thus companies are recognizing the next generation of unified collaboration has to seamlessly "unify" the remote and in-office worker experiences. As a result, what's next are "pods" popping up in in the sea of the open-office floor plan, providing even more flexible collaboration option, with intelligent microphones that work with cameras to cameras that auto-frame and track conversations and even count occupancy.
What's next is providing an agile office space that matches the agility of the workforce. Scheduling software and room panels will pay future dividends by addressing this dynamic demand: at any given time, the meeting host may not be in the room nor the participants. Just like a university seminar room, the number of seats required could change on the fly. Meeting organizers want the option to claim a space but not necessarily a specific room or number of seats. This ties into the roadmap of wireless conferencing where users bring their own device (BYOD), their own "meeting" leverages the room's camera, display and audio system, and soon feature "bring your own reservation", where participants have a tentative reservation with the building and floor, but the actual meeting room is determined closer to the start, such as when the host checks in to the building. For these types of room booking technologies to be adopted by employees, it still comes back to being "easy", which is why clients need consultants to assist them in gathering requirements, examining the marketplace and matching needs to product capabilities and validating the ease of use.
BYOD is certainly part of what's next, and everyone is holding their breath for voice control, which most will agree works well in our personal lives. While Alexa is still struggling to land in our workplace, there are several predictions that we can be fairly certain will come to pass: AV is now an essential building "utility". Videoconferencing is now a meeting space prerequisite. What's next is that the AV over IP infrastructure, which was providing point to point extensions, is now a "mesh" connecting any AV or IT system to any device, camera or display and soon directly to the cloud. Creating the ability to link adjacent and distance spaces within the same design parameters positions SM&W's clients take advantage of future endpoint and web platform technology, and better positioned to support office expansions and contractions.  The multimedia ecosystems are connecting further into building management systems (BMS). No longer limited to lights and shades in a single room, they now they are used for solar harvesting and customizing temperature zones to increase productivity. What's next is that technologies like digital signage will connect and display health and environmental data provided by the BMS systems with individual tenant relevance as well as landlord-provided and municipal services.
Computer peripheral companies are in the best position to leverage the demand for USB devices and they are pinning their future on supporting web platform providers. Look for rapid incremental advancements in Teams and Zooms-dependent devices like cameras, microphones and speakers and substantial advancements in video and audio quality that combines artificial intelligence, internet coding and streaming logic. What's next in terms of new display technology? Right now, the debate is between the high frame rate of 8k LED displays and the resolution and black levels of OLED but soon manufacturers will be providing solutions that meet both requirements. The underlying message in product technology is that demand for quality has skyrocketed. Everyone wants to see better images, look and sound better – even remotely.
Advancements in user experience is driven by the Web Platforms, and in the future clients will not have choose one over another. Simply put, they will just click the link and translation hooks will take the user to the platform the host created the meeting in. What's next in AV is even more ease of use advancements in web meetings as these companies compete for subscriptions. Expect to have more options like virtual backgrounds to expand the experience as virtual reality technology becomes faster, lighter and easier to deploy. Hopefully the future will also bring in a wave of accessibility enhancements. As remote collaboration becomes ubiquitous, let's not leave anyone behind. Hopefully there will be more language translation, closed-captioning and visual impairment tools. Audio and video devices in the future will provide greater equality of experience, not favoring certain physical capabilities, ethnicity or proximity to the presenter.