Alphabet Soup: A/E/C Industry Acronyms Defined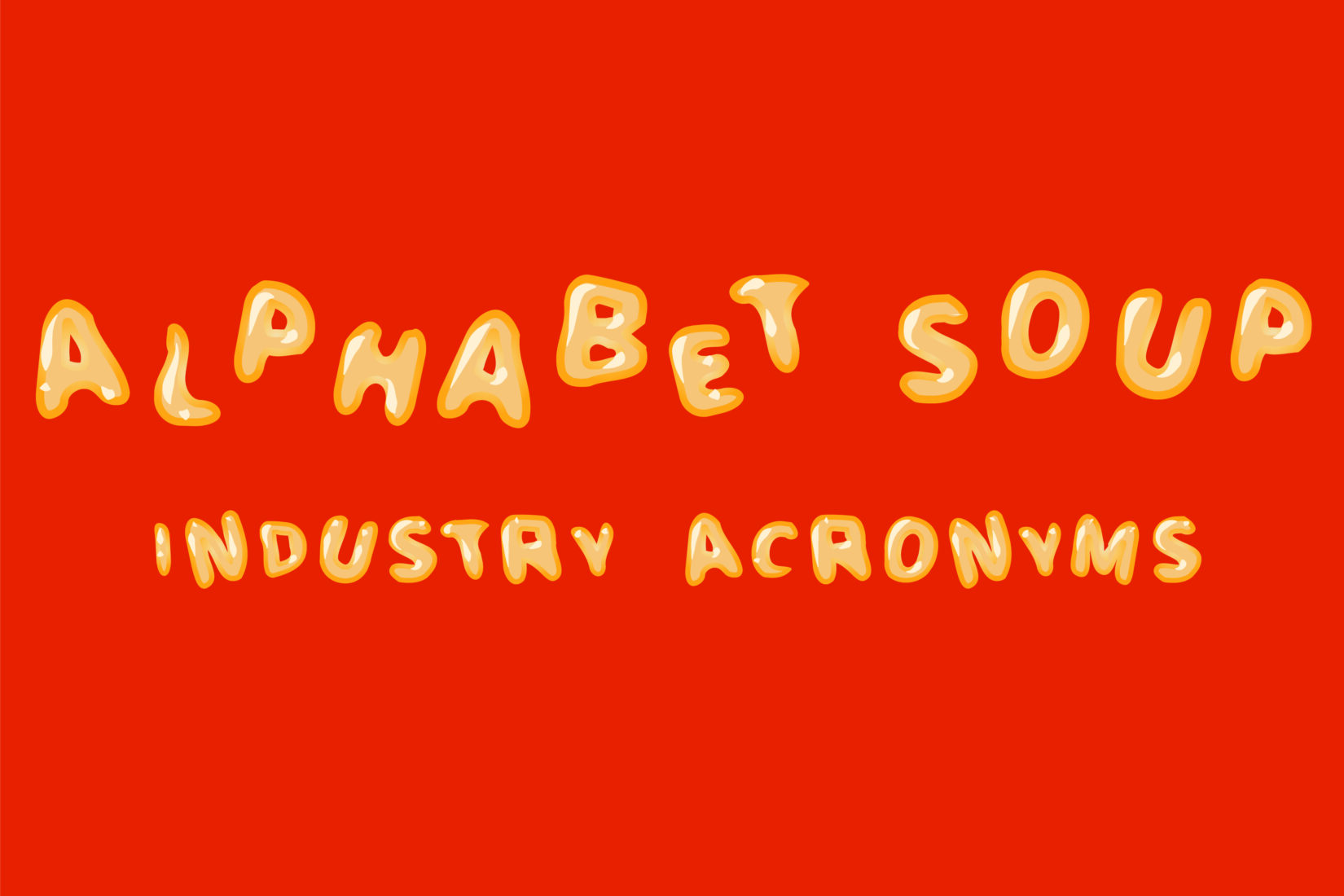 A newbie's take on common industry acronyms in architecture, engineering and construction.
A bowl of Campbell's Alphabet Soup is what comes to mind when reading through RFPs and other design-related documents. It's no secret there are a number of acronyms that are common to our industry, but as a newcomer to the architecture/engineering/construction space, it can be a bit overwhelming. I have found myself keeping a running list of acronyms and definitions for sanity's sake.
From easy to hard and everything in between, see if you have what it takes to stay afloat in our world of acronyms:
Design-Related:
– AEC: Architecture/Engineering/Construction
– CADD: Computer Aided Design & Drafting
– BIM: Building Information Modeling
– DB: Design-Build
– DBB: Design-Bid-Build
– SD: Schematic Design
– DD: Design Development
– CD: Construction Documents
– CA: Construction Administration
The Requests:
– ASR: Additional Services Request
– RFP: Request for Proposal
– RFQ: Request for Qualifications
– RFI: Request for Information
– ROM: Rough Order of Magnitude
Discipline-Specific:
– IT: Information Technology
– HIT: Healthcare Information Technology
– AV: Audiovisual
– NTP: Notice to Proceed
– STC: Sound Transmission Class
– NC: Noise Criteria
– CTS: Certified Technology Specialist
– PAG-NAG: Potential Audio Gain-Needed Audio Gain
– THD: Total Harmonic Distortion
– HDMI: High-Definition Multimedia Interface
– DVI: Digital Video Interface
– CMR: Common Mode Rejection
– BYOD: Bring Your Own Device
– SDI: Serial Digital Interface
– PTZ: Pan/Tilt/Zoom
– IMD: Intermodulation Distortion
– MTR: Main Telecommunications Room
– EMT: Electrical Metallic Tubing
– POTS: Plain Old Telephone Service
– CPTED: Crime Prevention Through Environmental Design
– IDS: Intrusion Detection System
– CATV: Cable Television
– IPTV: Internet Protocol Television
– OR: Operating Room
– CON: Certificate of Need
– HIMSS: Healthcare Information and Management Systems Society
– MRI: Magnetic Resonance Imaging
Even More:
– FFE: Furniture, Fixtures and Equipment
– SF: Square Footage (alternatively Square Feet)
– GSF: Gross Square Footage
– RSF: Rentable Square Footage
– LEED: Leadership in Energy and Environmental Design
– MSA: Master Services Agreement
– PE: Professional Engineer
– PO: Purchase Order
– AI: Artificial Intelligence
– IoT: Internet of Things
Authors